Once upon a time the Penguins used to come down with a strange malaise called the "Philly Flu" whenever they traveled cross state to take on Philadelphia. While the Flyers remain one of the NHL's elite teams, visiting the "City of Brotherly Shove" no longer evokes the same stomach-churning symptoms it once did.
Take Saturday afternoon's matchup at the Wells Fargo Center, for example. After falling behind their Atlantic Division brethren, 2-1, the Pens came roaring back on the wings of shorthanded tallies by Jordan Staal and Matt Cooke to a snatch wild 6-4 victory.
The Pens got the early jump on their hosts at 3:17, when Cooke stole the puck from Jaromir Jagr in the neutral zone, turned on the afterburners and whipped his 10th goal of the season past Ilya Bryzgalov from the left circle. However, the game soon morphed into a special-teams battle and the potent Flyers capitalized. During a 4-on-4 sequence, Jagr took a pass from Daniel Briere, cut into the slot and beat Marc-Andre Fleury with a wicked wrister at 15:16.
The expatriate winger struck again 18 seconds later. Working on a 4-on-3 power play, No. 68 dusted off a pretty feed from Claude Giroux and rifled it under the crossbar to stake Philly to a 2-1 lead.
While the Penguins struggled to get in sync, the Flyers continued to apply pressure with a speedy north-south attack. When Brooks Orpik drew a hooking penalty at 15:31 of the second period to leave his team two-men short, the Pens appeared doomed.
Thanks to an incredible penalty-killing effort by Craig Adams, Pittsburgh turned the game around. After several superb clears, the hardworking winger nudged the puck ahead to Staal. Using forward Jakub Voracek as a screen, Jordan cut toward the middle of the ice and lashed the puck past Bryzgalov for a 3-on-5 goal. Less than two minutes later Cooke burst around Kimo Timonen and beat Bryzgalov to the blocker side for a second shorthanded tally, prompting Flyers coach Peter Laviolette to pull the much-maligned goalie in favor of Sergei Bobrovsky.
Suddenly clutching a 3-2 lead, the Penguins weren't able to make it stand up. After making a nice play to cut off a Philly thrust, Deryk Engelland blew a tire directly in front of his net. Rookie Eric Wellwood pounced and fired the puck past a helpless Fleury to knot the score heading into the second intermission.
What figured to be a barn-burner of a third period turned out to be anticlimactic. Swarming like honey bees around a hive, the opportunistic Pens pumped three goals past an overmatched Bobrovsky during the first 10 minutes. On the opening shift Dustin Jeffrey snapped a Cooke rebound past the Russian netminder to hand the Pens a 4-3 lead. The wail from the goal siren had barely subsided when Pascal Dupuis scooped the puck off the end boards at 2:09 and wired it home from a sharp angle.
Next it was the "Firing Line's" turn to cash in. At the nine-minute mark James Neal followed up his own rebound and chipped it over Bobrovsky for his 30th goal of the season. Philly's Wayne Simmonds scored with 19 seconds left to cap off a zany afternoon of hockey.
"Our penalty-killing was huge," Penguins coach Dan Bylsma said. "To come out of special teams a plus-1 with a couple shorthanded goals was a big part."
Ice Chips
Cooke (two goals and an assist) was named No. 1 star … Staal (a goal and an assist) was voted No. 3 star … Philadelphia out-shot Pittsburgh 31-30 … Evgeni Malkin (an assist and two posts) holds a 70-68 edge over Giroux in the NHL scoring race … The Penguins topped the Flyers in hits (39-37) and faceoffs wins (34-26) … The Pens are 8-2 in their last 10 regular-season games in Philly … The black and gold are 10-1 when Jeffrey scores … Sidney Crosby, Tyler Kennedy, Ben Lovejoy, and Cal O'Reilly were scratches.
On Deck
The Penguins (33-20-5) trek to the Niagara Frontier for a matinee game tomorrow with Buffalo (24-27-7). The Pens beat the Sabres 8-3 at CONSOL Energy Center on December 17.
*Be sure to check out Rick's new book, "100 Things Penguins Fans Should Know and Do Before They Die" at TriumphBooks.com. It features 296 pages of bios, stories, anecdotes and photos from the team's colorful past in a compelling, easy-to-read style. Whether you're a die-hard booster from the days of Jean Pronovost or a big fan of Sid and Geno, this book is a must have for any true Penguins fan.
Don't forget to check out Rick's first book, "Total Penguins," at TriumphBooks.com. A complete and comprehensive book on the team's rich and storied history, it's filled with season-by-season summaries, player profiles and stats, bios on coaches, general managers and owners, photos from the "Post-Gazette" archives, and much, much more.
*Be sure to check out Rick Buker's books,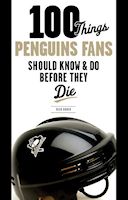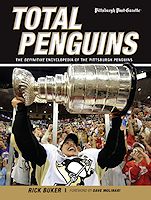 available at TriumphBooks.com, Amazon.com, and BarnesandNoble.com