The Penguins passed a big test against the Rangers as they tuned up for the Stanley Cup playoffs at CONSOL Energy Center on Thursday night. Fueled by two-point games from Chris Kunitz, Kris Letang, Evgeni Malkin, and Jordan Staal—not to mention a tidy 35-save effort by Marc-Andre Fleury—the black and gold spanked the Eastern Conference champs 5-2 to earn home ice for their upcoming series with the Flyers.
They also drew the ire of another opposing coach. Following Brooks Orpik's unfortunate knee-to-knee hit on Rangers forward Derek Stepan that marred an otherwise hard but clean game, New York skipper John Tortorella railed at the Penguins with a profanity-laced tirade.
"It's one of the most arrogant organizations in the league," he fumed. "They whine about this stuff all the time, and look what happens. It's a cheap, dirty hit. I wonder what would happen if we did that to their two whining stars. But they'll whine about something else over there, won't they? Starting with their two (expletive) whining stars."
Dan Bylsma was quick to defend his rugged defenseman.
"You see here where Stepan jumps out of the way and Brooks is on his track and looking to hit the guy at an angle," the Penguins coach explained while watching a video replay. "He (Stepan) is trying to get out of the way and creates that scenario."
Back to the game. The Pens struck just 71 seconds into the contest on a goal set up, appropriately, by Malkin. Flashing his Art Ross Trophy form, Geno found Letang inside the Rangers' line with a picture-perfect pass. "Tanger" unleashed a rocket that deflected off Kunitz and the left post to stake the Pens to a 1-0 lead.
Although Brandon Dubinsky beat Fleury from the slot three minutes later, the black and gold never flinched. At 8:27 Tyler Kennedy lasered a made-to-order rebound over Martin Biron's blocker to restore the Pens' lead.
Fleury made sure the locals didn't fritter it away. Early in the second period "Flower" stopped a streaking Marian Gaborik with a brilliant left-pad save. Richard Park—inserted into the Pens' lineup in the wake of injuries to James Neal and Steve Sullivan—made the score 3-1 moments later with a nifty tally from the side of the net.
The big boys cashed in for the home team midway through the third period. Sidney Crosby found Kunitz behind the Rangers' cage with a long stretch pass. "Kuny" fished the puck off the end boards and slid a pretty backhand feed to Malkin, who was barreling down the slot. Much to the delight of his parents, Vladimir and Natalia, the big Russian tickled the twine for his 49th goal.
With Orpik banished on a major penalty, Artem Anisimov beat Fleury to narrow the gap to 4-2. But Letang lofted his 10th goal of the season into an empty net to secure the fourth seed for the Pens.
Ice Chips
Malkin, Kunitz, and Letang were awarded the three stars … Kunitz registered his 200th career assist … Pascal Dupuis (an assist) extended his NHL-best points streak to 16 games … Fleury tied Tom Barrasso for most career wins (226) by a Penguins goalie … The Penguins played before their 250th consecutive home sellout … New York outshot Pittsburgh (37-31) … The Pens recorded 50 wins for the second time in franchise history … Park and Eric Tangradi (an assist) replaced Neal and Sullivan … Brian Strait replaced Matt Niskanen … Dustin Jeffrey, Ben Lovejoy, Neal, Niskanen, and Sullivan were scratches.
Team Awards
Malkin (MVP, Booster Club, Community Service) … Fleury and Orpik (Defensive Player) … Fleury and Dupuis (Good Guy) … Orpik (Player's Player) … Matt Cooke (Masterton nominee).
On Deck
The Penguins (50-25-6) wrap up the regular season against Philadelphia (47-25-9) at CONSOL Energy Center on Saturday afternoon. The Pens are 1-3-1 versus Philly.
*Be sure to check out Rick's new book, "100 Things Penguins Fans Should Know and Do Before They Die" at TriumphBooks.com. It features 296 pages of bios, stories, anecdotes and photos from the team's colorful past in a compelling, easy-to-read style. Whether you're a die-hard booster from the days of Jean Pronovost or a big fan of Sid and Geno, this book is a must have for any true Penguins fan.
Don't forget to check out Rick's first book, "Total Penguins," at TriumphBooks.com. A complete and comprehensive book on the team's rich and storied history, it's filled with season-by-season summaries, player profiles and stats, bios on coaches, general managers and owners, photos from the "Post-Gazette" archives, and much, much more.
*Be sure to check out Rick Buker's books,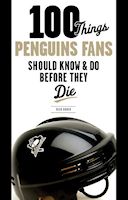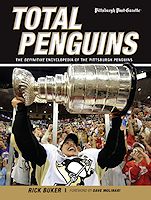 available at TriumphBooks.com, Amazon.com, and BarnesandNoble.com