Although it's a little bit after the fact, here's a quick sampling of the Penguins' five best (and worst) deadline deals. The trades had to occur after February 1 in order to qualify.
DOOZIES
1. March 4, 1991—Center John Cullen, left wing Jeff Parker and defenseman Zarley Zalapski to Hartford for center Ron Francis and defensemen Grant Jennings and Ulf Samuelsson.
Known in Pittsburgh simply as "the Trade." The Whalers' all-time leading scorer at age 27, Francis was a superb two-way center and the perfect compliment to Mario Lemieux. Samuelsson and Jennings provided backbone to a defense that was sorely in need of some. With one bold stroke, Craig Patrick acquired the missing pieces to the Pens' Stanley Cup jigsaw puzzle.
2. February 19, 1992—Defenseman Brian Benning, right wing Mark Recchi and a first round choice in the 1992 Entry Draft (acquired from Los Angeles) to Philadelphia for defenseman Kjell Samuelsson, right wing Rick Tocchet, goaltender Ken Wregget and a conditional third round choice the 1993 Entry Draft.
Parting with Recchi was tough, but the return was even greater. Blessed with the wingspan of a jumbo jet, Samuelsson made life miserable for opposing forwards. Wregget was a solid backup goalie who proved to be worth his weight in gold. But the key to the deal was Tocchet, the rough-hewn warrior winger who willed the Penguins to their second Stanley Cup.
3. March 4, 2009—Third round choice in the 2009 Entry Draft to the New York Islanders for right wing Bill Guerin.
A Ray Shero gem. Guerin, a former NHL All-Star and Stanley Cup winner with New Jersey, was languishing with the last-place Islanders at the time of the trade. Reborn in Pittsburgh, the 38-year-old winger supplied much-needed scoring, leadership and toughness while sparking the Penguins to a third Stanley Cup.
4. February 26, 2008—Right wing Colby Armstrong, centers Erik Christensen and Angelo Esposito and a first round choice the 2008 Entry Draft to Atlanta for left wing Pascal Dupuis and right wing Marian Hossa.
In only his second year at the helm, Shero pulled off a blockbuster of epic proportions. One of the premier right wings in hockey, Hossa blended with superstar Sidney Crosby like peas and carrots while pacing the Penguins with 12 postseason goals. Dupuis emerged as a speedy, reliable foot soldier who provided diligent two-way play and secondary scoring.
5. February 26, 2008—Second round choice in the 2008 Entry Draft and a fifth round choice in the 2009 Entry Draft to Toronto for defenseman Hal Gill.
On the heels of the Hossa deal, Shero acquired the mammoth Gill from Toronto for a pair of draft picks. An underrated cog in the Penguins' machine, Gill paired with incumbent Rob Scuderi to form a shutdown defensive tandem during the team's march to the 2009 Stanley Cup.
Honorable mention
February 26, 2009—Defenseman Ryan Whitney to Anaheim for left wings Chris Kunitz and Eric Tangradi.
Displaying the brass of a riverboat gambler, Shero exchanged the talented but enigmatic Whitney for a scoring winger (Kunitz) and a prospect (Tangradi). Slotted alongside Crosby, Kunitz provided the hustle, inspiration, and jam that had been missing from the Penguins' mix. Although he struggled to find the net in the postseason, "Kuny" was an underrated contributor during the 2009 Cup run.
February 21, 2011—Defenseman Alex Goligoski to Dallas for defenseman Matt Niskanen and left wing James Neal.
Shero acquired promising power forward Neal and undervalued defenseman Niskanen for Goligoski in a classic "two-fer" trade. Although the former Stars struggled mightily upon their arrival, each emerged as a major contributor for the Pens in 2011-12—Neal with his big-time scoring and Niskanen with his surprisingly solid defensive play.
DUDS
1. March 20, 1996—Left wing Markus Naslund to Vancouver for right wing Alek Stojanov.
Perhaps the most lopsided one-for-one trade in hockey history. A productive power forward in junior hockey, Stojanov proved to be no more than a fourth-line mucker. Naslund blossomed into a perennial all-star and team captain in Vancouver while racking up 395 career goals. An assist (or a raspberry) goes to coach Eddie Johnston, who had soured on Naslund.
2. March 8, 1997—Right wing Glen Murray to Los Angeles for center Ed Olczyk.
Patrick swapped an up-and-comer for a fading former star. While Olczyk was extremely popular with his new teammates his production declined—especially after the arrival of defense-first coach Kevin Constantine. Murray struggled during his two seasons with the Pens, but found new life on the west coast. The big winger would bang home 283 goals after leaving Pittsburgh.
3. April 7, 1995—Center Martin Straka to Ottawa for defenseman Norm Maciver and center Troy Murray.
A former Selke Trophy winner and 40-goal scorer, Murray was prized for his two-way play and leadership. However, the veteran center was well past his prime and faltered badly in the 'Burgh. Maciver, a mobile little defenseman, skated 45 games for the Pens before he too, was traded. Patrick softened the blow by signing Straka to a free-agent deal in 1997.
4. February 10, 2003—Right wing Alexei Kovalev, left wing Dan LaCouture and defensemen Janne Laukannen and Mike Wilson to the New York Rangers for defensemen Joel Bouchard and Richard Lintner and right wings Rico Fata and Mikael Samuelsson.
Patrick dumped a superstar (and his salary) and got next to nothing in return. Of the grab-bag collection of players he received for Kovalev, only the speedy Fata experienced any success with the Penguins. Samuelsson would develop into a solid player, albeit with Detroit. Bouchard and Lintner were gone by the start of the 2003-04 season.
5. March 2, 2010—Left wing Luca Caputi and defenseman Martin Skoula to Toronto for left wing Alexei Ponikarovsky.
What looked like a steal at the time turned into a rare Shero clunker. The hulking Ponikarovsky—a perennial 20-goal scorer with Toronto—fizzled in Pittsburgh while displaying little chemistry with Evgeni Malkin. Fortunately, Caputi turned out to be a bust as well, netting just one goal in 26 games for the Maple Leafs.
Dishonorable mention
March 4, 1972—Right wing Rene Robert to Buffalo for left wing Eddie Shack.
At the behest of coach Red Kelly, Jack Riley sent promising young forward Rene Robert to Buffalo for Kelly's old friend and teammate, Eddie Shack. While "The Entertainer" provided a spark during his season and change in Pittsburgh, he was nearing the end of the line. Robert would shine in Buffalo as a member of the deadly "French Connection Line."
*Be sure to check out Rick's new book, "100 Things Penguins Fans Should Know and Do Before They Die" at TriumphBooks.com. It features 296 pages of bios, stories, anecdotes and photos from the team's colorful past in a compelling, easy-to-read style. Whether you're a die-hard booster from the days of Jean Pronovost or a big fan of Sid and Geno, this book is a must have for any true Penguins fan.
Don't forget to check out Rick's first book, "Total Penguins," at TriumphBooks.com. A complete and comprehensive book on the team's rich and storied history, it's filled with season-by-season summaries, player profiles and stats, bios on coaches, general managers and owners, photos from the "Post-Gazette" archives, and much, much more.
*Be sure to check out Rick Buker's books,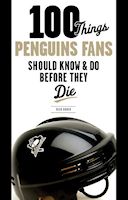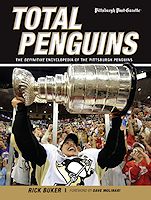 available at TriumphBooks.com, Amazon.com, and BarnesandNoble.com