As our Penguins prepare to battle archenemy (and likely first-round playoff opponent) Philadelphia on Sunday, I thought it might be a good time to reflect on the Flyers' signing of free agent Jaromir Jagr last summer. Kind of a hockey version of Back to the Future, if you will.
Just to refresh your memory, the former Steel City great decided to return to the NHL following a three-year hiatus in the KHL. After expressing through his agent Petr Svoboda that "his heart was in Pittsburgh," Jagr spoke with Pens owner Mario Lemieux on June 23. Encouraged by the conversation, Mario gave GM Ray Shero the green light to extend the expatriate winger a one-year offer for $2 million.
"We feel he's a guy who could help us this year and retire as a Penguin," Shero said.
Much to the surprise of his former team, Jagr opted to test the free-agent waters. On July 1 he signed with Philly for a cool $3.3 million. Predictably, his decision to join the hated Flyers touched off a fresh wave of venom in the city where he once was king.
"Jagr did the Penguins a favor by picking the Flyers," Pittsburgh Post-Gazette columnist Ron Cook wrote. "They are better off without him."
Cook's words turned out to be prophetic. Shero used the money earmarked for Jagr to sign former Nashville star Steve Sullivan. He got "Sully" at a better price to boot ($1.5 million).
So who got the best player? A quick glance at the stat sheet shows they've enjoyed comparable seasons. While Jagr's posted 18 goals and 52 points in 68 games with Philly, Sullivan's rung up similar numbers for the Pens (15 goals and 46 points in 77 games).
Giving credit where credit is due, Jagr's emerged as a solid citizen in the "City of Brotherly Shove." A fixture on the Flyers' potent power play, he's helped budding superstar Claude Giroux push his game to another level. Much to the chagrin of the Penguins' faithful the Czech legend's been especially tough on his former team (three goals in four games).
But Sullivan's truly been a gem. Fully recovered from the back problems that plagued him in Opryland, he's revitalized the Pens' sagging power play with his skating, savvy, and pinpoint passing. He's versatile enough to play all three forward positions, something Jagr isn't able to do. Factor in his speed, team-first attitude, and surprisingly scrappy play, Sullivan's tailor-made for Dan Bylsma's up-tempo, puck-possession game.
There are other, more subtle bonuses that tip the scales in favor of the Penguins. Had Jagr signed with the locals he undoubtedly would've filled a slot on the top two lines, which might have curbed the production of players like James Neal and Pascal Dupuis. Plus, the Pens didn't need a player to man the half-boards—Jagr's favored spot. They needed a quarterback for the power play, and they got a terrific one in Sullivan.
Although a Jagr return to the 'Burgh may have healed some old wounds, Sully's been a better fit.
*Be sure to check out Rick's new book, "100 Things Penguins Fans Should Know and Do Before They Die" at TriumphBooks.com. It features 296 pages of bios, stories, anecdotes and photos from the team's colorful past in a compelling, easy-to-read style. Whether you're a die-hard booster from the days of Jean Pronovost or a big fan of Sid and Geno, this book is a must have for any true Penguins fan.
Don't forget to check out Rick's first book, "Total Penguins," at TriumphBooks.com. A complete and comprehensive book on the team's rich and storied history, it's filled with season-by-season summaries, player profiles and stats, bios on coaches, general managers and owners, photos from the "Post-Gazette" archives, and much, much more.
*Be sure to check out Rick Buker's books,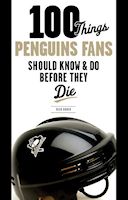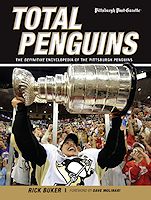 available at TriumphBooks.com, Amazon.com, and BarnesandNoble.com