Entering Tuesday night's contest between the Penguins and Rangers at CONSOL Energy Center, much of the pre-game buzz focused on Rangers goalie Henrik Lundqvist, and rightfully so. After all, "King Henrik" had posted some extraordinary numbers, including a microscopic 1.77 goals against average and a stunning .940 save percentage. By comparison, Marc-Andre Fleury's stats (2.41 GAA, .909 SV%) looked positively pedestrian.
Yet as he has done throughout his career, Fleury rose to the occasion with a big-time performance. Out-dueling his more heralded counterpart, "Flower" turned aside 27 shots to lead the Pens to a crisp 2-0 victory in a battle of Eastern Conference heavies.
If Sunday's embarrassing loss at Buffalo represented the pits of an uneven season for the black and gold, the sparkling win over the Rangers marked the pinnacle. Skating with playoff-style intensity and superb attention to detail, the Penguins played a near flawless hockey game.
"We wanted to make a statement with every shift, every period we play against them," Pittsburgh coach Dan Bylsma said.
Following a scoreless opening period, the home team snatched the lead a minute into the second frame on a goal by Russian wonder Evgeni Malkin. Flying off the bench on a perfectly executed line change, the NHL's leading scorer gathered in a short pass from Kris Letang, cut diagonally across the Rangers' zone on a breakaway and beat Lundqvist with a beautiful backhander.
Special teams played a part, too. With Marc Staal off for tripping, Malkin won a battle in the left-wing corner and relayed the puck to Steve Sullivan inside the Rangers' blue line. Taking full advantage of a Matt Cooke screen, the crafty veteran drifted laterally across the zone before blasting his 11th goal past Lundqvist at 11:14.
It was all the offense the Penguins would need. Aided by some air-tight defense, Fleury stopped nine shots in the final 20 minutes to register his third shutout of the season.
To a man, the Pens were pleased with their effort.
"I think that was our first complete 60-minute game in a long time," Sullivan noted. "We got something from everybody."
Ice Chips
Fleury earned the No. 1 star … Flower (22 career shutouts) tied Tom Barrasso on the team's all-time list … Malkin (a goal and an assist) was voted No.2 star … Sullivan was awarded the No. 3 star … Pittsburgh out-shot New York 31-27 … The Penguins (73 points) remain tied with Philadelphia, a point behind second-place New Jersey in the Atlantic Division race … The Devils and Flyers each have a game in hand on the Pens … Brad Thiessen backed up Fleury (Brent Johnson was ill) … Eric Tangradi dressed in place of Dustin Jeffrey … Ben Lovejoy replaced Brooks Orpik (upper-body injury) … Sidney Crosby, Jeffrey, Johnson, Tyler Kennedy, Cal O'Reilly, and Orpik were scratches.
On Deck
The Penguins (34-21-5) are off until Saturday, when they host Tampa Bay (27-26-6) in a matinee game. The Lightning recently traded Steve Downie (to Colorado), Pavel Kubina (to Philadelphia), and Dominic Moore (to San Jose).
*Be sure to check out Rick's new book, "100 Things Penguins Fans Should Know and Do Before They Die" at TriumphBooks.com. It features 296 pages of bios, stories, anecdotes and photos from the team's colorful past in a compelling, easy-to-read style. Whether you're a die-hard booster from the days of Jean Pronovost or a big fan of Sid and Geno, this book is a must have for any true Penguins fan.
Don't forget to check out Rick's first book, "Total Penguins," at TriumphBooks.com. A complete and comprehensive book on the team's rich and storied history, it's filled with season-by-season summaries, player profiles and stats, bios on coaches, general managers and owners, photos from the "Post-Gazette" archives, and much, much more.
*Be sure to check out Rick Buker's books,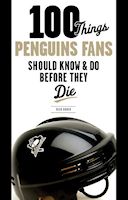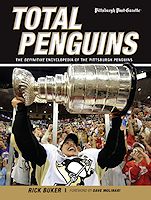 available at TriumphBooks.com, Amazon.com, and BarnesandNoble.com