It wasn't supposed to work out this way. Thanks to a pair of bold trades by Penguins GM Ray Shero at the Entry Draft that freed up millions in salary-cap space, the black and gold were supposed to be major players in the Zach Parise–Ryan Suter free-agent sweepstakes.
One could almost picture Parise working the give-and-go to perfection with pal Sidney Crosby. And the steady, productive Suter would've looked awfully nice anchoring the Pens' new-look defense beside incumbent All-Star Kris Letang. Too bad Minnesota GM Chuck Fletcher had to go and ruin his former boss's plans by signing each to 13-year deals for a cool $98 million apiece.
Turns out, the Penguins weren't even in the running.
"We never got close to anything like that, in terms of any sort of verbal agreement," Shero said. "Or any negotiation."
Although it's tough to put a positive spin on losing out on this summer's free-agent plums, every cloud has a silver lining. In addition to saving tons of cap space for future deals, Parise's snub opens the door for eternal prospect Eric Tangradi. The strapping winger's put up good numbers in junior and at Wilkes-Barre. Perhaps it's time to see if he can produce in a top-six role at the NHL level. Ditto for Dustin Jeffrey, who showed occasional flashes until a knee injury derailed him in 2011.
Another option might be Phoenix free agent Shane Doan. The Coyotes' long-time captain is waiting to see if the sale of the club to prospective buyer Greg Jamison is approved. If the league rubber stamps the deal, look for Doan to stay in the desert. However, if the purchase falls through, the burly 6-1, 230-pounder might be willing to join another team.
It's no secret the 35-year-old winger would love to hoist the Stanley Cup before he hangs up his skates. He'd have a legitimate shot with the Penguins. A complete player, Doan combines a scoring touch (318 career goals) with toughness and an exemplary team-first attitude. Best of all, he'd provide the veteran leadership the black and gold has lacked since the departures of Sergei Gonchar and Bill Guerin.
Trade-wise, big-time scorers Rick Nash (Columbus) and Bobby Ryan (Anaheim) are rumored to be on the block. Neither would come cheap. And Nash and Crosby displayed precious little chemistry as Olympic linemates a couple of years ago.
The situation's murkier on defense. While the Pens possess enviable organizational depth on the blue line, there's a glaring need for a strong, all-around d-man to slot beside Letang. Youngsters Simon Despres and Joe Morrow certainly have pedigree, but it's asking a lot for either to fill the void.
Free-agent pickup Dylan Reese has decent skills, but shows little interest in playing a physical game (picture a poor man's version of Paul Martin). Speaking of the much-maligned Martin, he remains a huge question mark following a shaky 2011-12 campaign.
A trade is always a possibility. However, given the dearth of available front-line defensemen around the league, it's a seller's market.
"There are a number of teams looking for defensemen now, and they're difficult to find," Shero noted.
Of greater concern was Shero's decision to let free-agent forward Steve Sullivan walk. With the crafty veteran serving as quarterback, the power-play conversion rate jumped from a dismal 15.8 percent to 19.7. His departure may force the Pens to rush the gifted but green Morrow ahead of schedule.
For a team that has serious designs on winning the Stanley Cup, it's a less-than-ideal state. But things have a way of sorting themselves out.
"We'll see what the summer brings us," Shero said.
*Be sure to check out Rick Buker's books,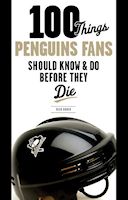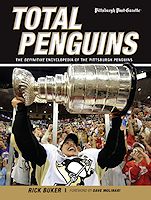 available at TriumphBooks.com, Amazon.com, and BarnesandNoble.com