I've been a die-hard Penguins fan for nearly 40 years. During that span there have been precious few times—especially since the arrival of Mario Lemieux—when I haven't been proud of our team. But this is one of 'em.
It isn't that the Pens lost a crucial Game 3 to the piping-hot Flyers yesterday. Every team loses. Rather, it's the way they lost that has my guts churning.
With their playoff lives on the line, our boys seemed infinitely more interested in extracting a pound of flesh than extending the series to … say … a Game 5. To make matters worse, the chief instigator in the team's roguish and thoroughly undisciplined play was their leader and captain Sidney Crosby.
I've always had the utmost admiration and respect for Crosby. Not only is he an exceptional hockey player, but he's a wonderful young man as well. However, this wasn't Sid's finest hour. Instead of focusing his energies on dissecting Philly's defense, he seemed most intent on stirring up crap.
The team followed Crosby's questionable lead to the hilt. Our best defenseman, Kris Letang, got tossed in the first period of a must-win game for fighting. Arron Asham cross-checked Brayden Schenn up high in response to a hard, but clean hit and then pounded his head into the ice for good measure. If I didn't know better, I'd have sworn the Pens and Flyers had switched jerseys before the opening faceoff.
Much to my dismay, Crosby and fellow superstar Evgeni Malkin continued to engage the Flyers in extracurricular activities all game long. There were numerous occasions during the course of the telecast where I found myself screaming, "Get out of there!"
I'm all for physical play as long as it helps the team. I don't have a problem with fighting, either, when it's warranted. And I fully understand that a rivalry such as this can cause emotions to boil over. But what the Penguins were doing made no sense at all. It reminded me of an infamous heavyweight match between Mike Tyson and Evander Holyfield. Realizing he couldn't win, "Iron Mike" got himself disqualified by biting off a chunk of Evander's ear.
Pens coach Dan Bylsma deserves his share of the blame, too. He flat-out lost control of his team. In some instances he even fanned the flames. When Bylsma left James Neal on the ice following the big winger's borderline hit on Flyers rookie Sean Couturier in the third period, it was like squirting a fresh coat of gasoline on a smoldering fire. All things considered, I thought the Flyers and their coaching staff showed remarkable restraint.
I wonder how Lemieux feels about all this. Mario's worked so hard over the years to turn the Penguins into a classy, dignified organization. My guess is, his stomach's turning over.
Fortunately, the Pens have one last chance to get it right. They've got an opportunity in Game 4 to show the hockey world that all the negative things people like NBC analyst Mike Milbury and Rangers coach John Tortorella are saying about them aren't true. Win or lose, let's show some class.
*Be sure to check out Rick's new book, "100 Things Penguins Fans Should Know and Do Before They Die" at TriumphBooks.com. It features 296 pages of bios, stories, anecdotes and photos from the team's colorful past in a compelling, easy-to-read style. Whether you're a die-hard booster from the days of Jean Pronovost or a big fan of Sid and Geno, this book is a must have for any true Penguins fan.
Don't forget to check out Rick's first book, "Total Penguins," at TriumphBooks.com. A complete and comprehensive book on the team's rich and storied history, it's filled with season-by-season summaries, player profiles and stats, bios on coaches, general managers and owners, photos from the "Post-Gazette" archives, and much, much more.
*Be sure to check out Rick Buker's books,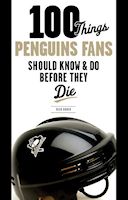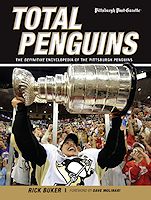 available at TriumphBooks.com, Amazon.com, and BarnesandNoble.com