In the annals of Penguins history, perhaps no player cultivated a more fearsome reputation—or earned a more colorful nickname—than left wing Bob "Battleship" Kelly.
"Kelly was the guy who took care of everybody," former Pens teammate Rick Kehoe recalled. "He was our enforcer."
Fighting was his stock in trade, and few players of his era did it better. As a 27-year-old rookie with St. Louis, Kelly pounded out a pair of decisions over the NHL's reigning heavyweight champ, Dave "the Hammer" Schultz. Word spread like wildfire throughout the league.
Desperate for muscle, the Penguins acquired the 6'2" 195-pounder from St. Louis on January 17, 1974, along with Ab DeMarco and fellow tough guy Steve Durbano. He gained instant folk hero status in Pittsburgh when he took on Blues villain Barclay Plager in a big post-trade grudge match.
Civic Arena organist Vince Lascheid was quick to capitalize on Kelly's burgeoning popularity. He piped out a lively rendition of "Anchors Aweigh" whenever the rangy winger stepped onto the ice.
Unlike many of today's heavyweights, Kelly was far more than a one-dimensional thug. Although an average skater, he possessed a hard slap shot and put it to good use. Patrolling the port side on a line with phenom Pierre Larouche, the Fort William, Ontario native netted 27 goals in 1974-75 and 25 more the following season. During the ill-fated 1975 playoffs, Battleship arguably was the Pens' best player, pacing the club with five goals and eight points.
He was a remarkably infrequent fighter during his three-plus years in the 'Burgh, due in no small part to his intimidating presence. Sporting a wild shock of curly dark hair, a Fu Manchu mustache and piercing blue eyes, Kelly oozed silent menace.
"I don't go into a game looking for a fight because I don't have to prove myself in the league anymore," he explained. "But if the other team wants to get rough, I will get rough too."
Former teammate Harvey Bennett marveled at the respect opposing players afforded Kelly.
"It's like Kelly skates with a big glass dome around him," Bennett told the Pittsburgh Press. "Nobody wants to touch him. He can stand in the crease and not get hit. He doesn't get any cheap shots."
Occasionally an opposing gunslinger would test him, with dubious results. Feisty Chicago defenseman Keith Magnuson engaged Battleship in a toe-to-toe scrap and was incapacitated for four weeks. A Kelly uppercut dislodged the helmet of Toronto battler Dave "Tiger" Williams and sent it flying into the air.
When asked by Beaver County Times columnist John Clayton to explain the reason for his fistic prowess, Kelly shrugged and said, "I don't know why I'm such a good fighter. Maybe it's because I punch harder than most guys."
Following two strong seasons with the Penguins, Kelly dipped to 10 goals in 1976-77. The rugged winger signed a free-agent deal with Chicago on August 17, 1977, ending his stay in the Steel City.
*Be sure to check out Rick Buker's books,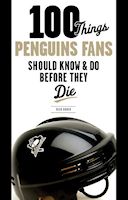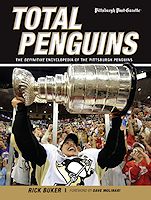 available at TriumphBooks.com, Amazon.com, and BarnesandNoble.com