Next to Ron Stackhouse, perhaps no Penguin was less appreciated in his time than defenseman Duane Rupp. Ironically, the fans' dissatisfaction stemmed from a similar cause. Like Stackhouse, Rupp was a big player for his day (6'1" 195) who didn't fit the mold of a stay-at-home bruiser.
A product of the "Original Six" era, Rupp became New York Rangers property after winning the Memorial Cup as a member of the Flin Flon Bombers. Known for his huge hands—and slowness afoot—the MacNutt, Saskatchewan native focused on his defensive chores at first. However, as his confidence grew Duane displayed a genuine flair for offense, tallying 117 points over a three-year span with the Rochester Americans while earning All-Star honors.
Following a trade to Toronto during the summer of 1964, Rupp made several cameo appearances with the Maple Leafs. He has vivid memories of skating against players like Bobby Hull, Gordie Howe, and Jean Beliveau.
"You were in awe when you stepped on the ice with them," he told Penguin Profiles author Jim O'Brien. "They were legends, and playing with guys like that was, well, like a dream come true."
Thanks to the 1967 expansion, a full-time spot opened for Rupp on Toronto's blue line. Seizing the opportunity, the 29-year-old rookie enjoyed a solid first season with the Maple Leafs (plus-16). After being claimed by Minnesota in the Intra-League Draft, the big defender joined the Penguins on January 24, 1969, in a deal for future Hall-of-Famer Leo Boivin.
Rupp performed ably upon his arrival, recording 13 points in 30 games. In 1969-70 he took a regular turn on defense and helped the Pens to a second-place finish in the West Division. During the playoffs that spring he led the club's blue-liners with two goals and two assists.
The following season was arguably Rupp's best in the Steel City. Given an expanded role by coach Red Kelly—including plenty of power-play duty—Duane registered five goals and 33 points (in 59 games) while firing off a career-high 152 shots. On March 24, 1971, he became the first defenseman in team history to score a hat trick.
Unfortunately, the improvement wasn't enough to suit Penguins fans. A favored target of the Civic Arena boo-birds due to his easy-going nature, Rupp endured his share of catcalls. A popular bed-sheet banner of the day read, "RILEY AND RUPP AND NO STANLEY CUP."
Much to Duane's credit, the rough treatment never affected his play on the ice. Nor did it dissuade him from making Pittsburgh his home. During the early 1970s he opened Rupp's Sporting Goods in suburban Mt. Lebanon.
"All we carried was hockey equipment," he recalled. "On our signs, we had hockey sticks in place of the 'p's' in my name. It started off very well."
The same could not be said for his career. When the Penguins broke training camp in 1971, Rupp was surprised to learn he'd been sent to Hershey of the AHL. After earning a call-up at midseason, the mustachioed defender tallied a typically productive 22 points in 34 games (a 50-point pace over a full season) to help fuel a second-half surge.
Reestablished as a bona fide big-leaguer, Duane finally proved his mettle to the local fans on February 10, 1973, when he challenged Bruins scoring ace Phil Esposito during a nationally televised game at Boston Garden. Following a brief skirmish he dropped "Espo" with a right to ignite a wild five-on-five donnybrook.
Seeking to overhaul his aging defense, Penguins GM Jack Riley shipped the 35 year old back to Hershey for the 1973-74 season. Rupp departed as the Penguins' all-time leading scorer among defensemen (104 points), a distinction he held until Stackhouse, ironically, surpassed him.
*Be sure to check out Rick Buker's books,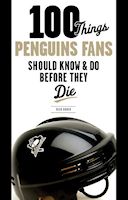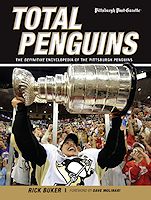 available at TriumphBooks.com, Amazon.com, and BarnesandNoble.com