It's somehow fitting that former Penguins defenseman Jim Johnson played his college hockey for the University of Minnesota Duluth Bulldogs. Indeed, the undersized defenseman displayed bulldog tenacity while carving out a solid 13-year NHL career.
Although he enjoyed an outstanding collegiate career, Johnson was bypassed in the Entry Draft. Fortunately, Pens general manager Eddie Johnston had his eyes on the New Hope, Minnesota native. Impressed with Johnson's heart and desire, E.J. signed the 22-year-old rearguard to a free-agent deal on June 9, 1985.
Displaying the poise of a seasoned veteran, Johnson won a spot on the Penguins that fall. The heady first-year defender tallied 29 points and paced the team's blue-liners with a plus-12. He easily captured the Pens' Rookie-of-the-Year award.
Johnson followed up with an equally strong sophomore season. Earning the confidence of Penguins coach Bob Berry, he notched five goals and a career-best 30 points in 1986-87 while logging a ton of ice time.
The keys to Johnson's success were his mobility, superb conditioning, and tireless work ethic. Generously listed at 6' 1" and 190 pounds, he hardly was a behemoth. But Johnson was fearless and incredibly strong for his size, thanks to his dedication in the weight room.
After initially flashing some offensive skill, Johnson settled into a more of a stay-at-home role. Thanks to his superior skating he evolved into a highly effective penalty killer. Despite his lack of size, "J.J." cleared the front of the net with passion and zeal.
"During my years playing with the Penguins, I was appreciated for my defensive ability and was often responsible for penalty killing and negating the opposition's top players in a shutdown role," Johnson recalled in an interview with Mike Palm of the Pittsburgh Tribune-Review.
Following five solid seasons in Pittsburgh, general manager Craig Patrick traded the durable defender (along with Chris Dahlquist) to Minnesota on December 11, 1990, for Larry Murphy and Peter Taglianetti. Johnson was stung by the trade.
"I was shocked and, quite frankly, devastated to receive the news," he said. "Even though I was returning to my home state, I was disappointed to be leaving my first pro team and the great city of Pittsburgh and its fans."
Ironically, the Penguins and the North Stars clashed in the Stanley Cup Finals that spring. Although Johnson made life miserable for his former teammates with his aggressive play, the Pens prevailed in six games.
J.J. enjoyed three solid seasons in Minnesota, emerging as one of the better defensive defensemen in the league. He moved with the team to Dallas in 1993, where he suffered a fractured T-3 vertebra in his neck. Johnson bounced back from the injury to play four more seasons for Washington and Phoenix before retiring in 1998 due to post-concussion symptoms. He finished his NHL career with 829 games on his resume—not bad for a player who wasn't even drafted.
*Be sure to check out Rick Buker's books,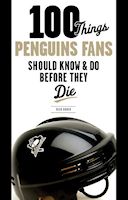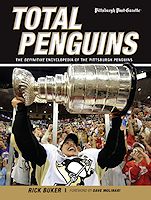 available at TriumphBooks.com, Amazon.com, and BarnesandNoble.com