One of the earliest Penguins heroes, Vernon "Keith" McCreary typified the teams of the late 1960s and early 70s. While hardly a star, he was a diligent two-way player who always gave his best effort.
As a youngster growing up on the shores of Lake Bernard in central Ontario, McCreary dreamed of one day playing in the NHL like his older brother, Bill. While skating for his hometown Junior B team—the Sundridge Beavers—Keith drew the attention of the fabled Montreal Canadiens, who signed him to a pro contract.
McCreary quickly established himself as a player of promise, twice earning All-Star honors as a member of the Hull-Ottawa Canadiens of the EPHL. He got his first taste of big-league action when Montreal called him up for a nine-game cameo in 1964-65.
Keith toiled for three more seasons in the American Hockey League, averaging better than 20 goals a year with Hershey and Cleveland. The blonde-haired winger finally received his big break when the Penguins plucked him from the Canadiens in the 1967 Expansion Draft.
McCreary enjoyed a solid first season with the Pens. The 27-year-old rookie potted a respectable 14 goals while earning a reputation for strong defensive play. Thanks to his energetic style and clean-cut good looks, he quickly became a favorite of the Steel City fans.
It turned out McCreary had just scratched the surface of his abilities. Given an expanded role in 1968-69 by coach Red Sullivan, he emerged as one of the few bright spots on a last-place team. The 5'10" 180-pounder notched a team-high 25 goals (including seven on the power play) while pacing the club with four game-winners. Not surprisingly, he was named the team's MVP.
Although he never wore the "C," McCreary was a natural-born leader who served the Penguins as an assistant captain. An honest, hard-working player who never failed to pay the price, Keith took on some of the tougher players of his day, including Barclay Plager, Carol Vadnais, and future Pens teammate Al Smith.
Unfortunately, his determined style invariably led to injuries. Over the next two seasons McCreary missed 35 games due to a right knee injury and a chronic back ailment. Much to his credit, he scored 18 goals in 1969-70 and a team-leading 21 in 1970-71.
Following another injury-plagued campaign the Penguins exposed the veteran left wing in the 1972 Expansion Draft. He was claimed by the Atlanta Flames, who promptly named him their first captain. McCreary enjoyed a rebirth in Dixie, scoring 20 goals in 1972-73 while providing steady two-way play and leadership. He finished his 532-game NHL career with 131 goals (82 with the Pens) and 243 points, highly respectable totals for an expansion-era player.
Following his playing days Keith joined the NHL Alumni Association and eventually became Chairman.
"He had a real desire to help former players," said Hall-of-Famer Mike Gartner. "He was a very selfless person who shied away from any recognition for his efforts."
Sadly, McCreary passed away on December 9, 2003 after a courageous battle with cancer. In a double-tragedy, former Blackhawks defenseman Keith Magnuson was killed in a car accident following the funeral service.
*Be sure to check out Rick Buker's books,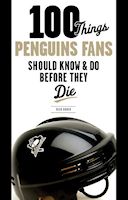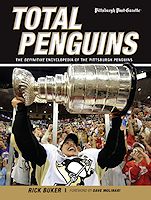 available at TriumphBooks.com, Amazon.com, and BarnesandNoble.com