During the mid-1980s, then-Penguins general manager Eddie Johnston worked hard to build a competitive team around budding superstar Mario Lemieux. One of the club's cornerstones during those developmental years was a feisty left wing named Randy Cunneyworth.
An eighth-round pick of Buffalo in the 1980 Entry Draft, Cunneyworth established himself as a scrappy, competitive player while skating for the fabled Ottawa 67's of the Ontario League. However, the Etobicoke, Ontario native had trouble cracking Buffalo's talented lineup. After skating in 20 games for the Sabres in 1981-82, Cunneyworth plied his trade with the Rochester Americans for several seasons while waiting for another shot at the big time.
He received his break on October 4, 1985, through one of the most convoluted three-way deals in NHL history. In exchange for stashing Edmonton's Pat Hughes and Buffalo's Mike Moller on his protected list during the Waiver Draft—effectively warding off any would-be takers—Johnston acquired Cunneyworth and Oilers forward Willy Lindstrom.
Randy was keen to seize the opportunity.
"It was my time for making it," he shared in an interview with Seth Rorabaugh of the Pittsburgh Post-Gazette. "And staying at this level."
Tough and wiry, "Cunney" played with the intensity of a pit bull terrier. The 6'0" 198-pounder possessed an underrated scoring touch as well. After notching 15 goals during his first season with the black and gold, Randy potted 26 in 1986-87 while leading the team with a plus-14. On March 3, 1987, he became only the fourth player in franchise history to score four goals in one game, turning the trick against Quebec. His fine performance earned him a Masterton Trophy nomination.
Impressed with Randy's attitude and desire, Pens coach Pierre Creamer teamed Cunneyworth with Lemieux in 1987-88. The spirited winger blossomed, piling up career highs in goals (35), assists (39), and points (74) to garner the Baz Bastien (Good Guy) Award.
"I remember having some pretty productive years relative to helping the team out and doing a job for Mario," Randy recalled.
Despite his chemistry with No. 66, Cunneyworth was bumped off the top line the following season in favor of defensive-minded Bob Errey. Shifted to the off-wing alongside Dan Quinn and burly newcomer Kevin Stevens, his output dipped to a still respectable 25 goals, along with a career-high 156 penalty minutes.
Although he provided much needed scoring depth and spunk, Randy was sent to Winnipeg over the summer of 1989 in a controversial six-player swap. The trade didn't work out especially well for either club. Andrew McBain—expected to fill Cunneyworth's spot—was shipped off to Vancouver after 41 lackluster games in a Penguins uniform. Meanwhile, Randy joined his former GM, Johnston, in Hartford after just 28 games with the Jets.
While Cunneyworth never fully regained the scoring touch he displayed in the Steel City, he became a valuable role player who was prized for his toughness and leadership. He skated nine more seasons for Hartford, Chicago, Ottawa, and Buffalo, and served as captain for an improving young Senators team.
Well respected by his peers, Cunneyworth soon entered the coaching ranks. Following a long minor-league apprenticeship he was appointed interim head coach of the NHL's most storied franchise, the Montreal Canadiens, on December 17, 2011.
*Be sure to check out Rick Buker's books,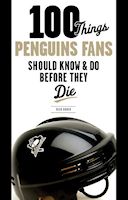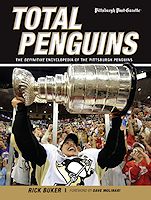 available at TriumphBooks.com, Amazon.com, and BarnesandNoble.com