As a member of the illustrious draft class of 1990 that included Penguins prodigy Jaromir Jagr, Robert Lang was projected to be a star. Indeed, the Teplice, Czechoslovakia native possessed all the tools. A smooth, powerful skater, the 6'3" 217-pounder had excellent vision and an exquisite touch, both for passing and shooting.
While Lang eventually would fulfill his lofty potential, he struggled mightily during the early stages of his career. Following four nondescript seasons in Los Angeles, the big center returned to his homeland in 1996-97. At the age of 26 his NHL career appeared to be all but over. Little did he realize he was about to receive the call that would transform him from underachiever to All-Star.
Seeking to add depth down the middle in the wake of Mario Lemieux's first retirement, Penguins GM Craig Patrick signed Lang to a free-agent deal on September 2, 1997. After being snagged by Boston in the Waiver Draft, he was reclaimed by the black and gold on October 25.
A diligent two-way player who paid proper attention to his defensive chores, Lang seized the opportunity and established himself as a solid third-line center. During the 1998 Winter Olympics he and Jagr—along with fellow "Euro Pens" Jiri Slegr and Martin Straka—helped propel the Czech Republic to a gold medal.
Given an expanded role by coach Kevin Constantine, "Langer's" latent offensive skills soon bubbled to the surface. After scoring 21 goals in 1998-99, No. 20 upped the ante the following season (23 goals and 65 points) to emerge as a rising star.
In 2000-01 Lang enjoyed a breakout year. Skating on a high-octane second line with sniper Alexei Kovalev and the speedy Straka, he exploded for a career best 32 goals and 80 points, along with a sparkling plus/minus rating of plus-20. During the playoffs he set up Darius Kasparaitis with a beautiful drop pass that resulted in a Game 7 overtime winner against Buffalo.
Lang would play one more season in the 'Burgh, notching 50 points during an injury-plagued 2001-02 campaign. With his contract up for renewal the cash-strapped Penguins had little hope of signing the productive center. On July 1, 2002 he inked a five-year, $25-million deal with Washington, joining countryman Jagr in the nation's capital.
Like a fine wine Lang improved with age. After racking up 69 points during his first year with the Capitals, the 33 year old enjoyed another standout season in 2003-04. Lang was perched atop the NHL scoring race when he was acquired by the Cup contending Red Wings on February 27. It marked the first time in NHL history that a player was traded while leading the league in points. Although injuries robbed him of a shot at the Art Ross Trophy, Langer finished the season with 30 goals and 79 points in 69 games.
Robert went on to skate for five more seasons with Detroit, Chicago, Montreal, and Phoenix before retiring in 2010. Thanks is no small part to the reprieve he received from the Penguins, he finished his 989-game career with 261 goals and 703 points. Not coincidentally, Lang has fond memories of his time in the Steel City.
"It was fun," he recalled in an interview with Seth Rorabaugh of the Pittsburgh Post-Gazette. "We had a good group of guys. Lot of good games. Lot of good memories."
*Be sure to check out Rick Buker's books,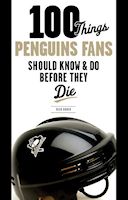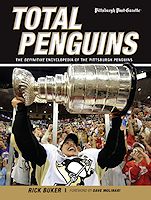 available at TriumphBooks.com, Amazon.com, and BarnesandNoble.com