Today the Pittsburgh Penguins acquired goalie Tomas Vokoun from the Washington Capitals in exchange for a 7th round draft pick in this year's upcoming draft.  Vokoun, 35 and an unrestricted free agent come July 1st then went on to sign a two year deal with the team worth $2 million per season effectively ending the Penguin career of Brent Johnson.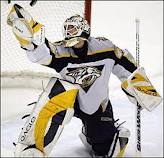 Vokoun, who had spent the majority of his NHL career with both the Nashville Predators and the Florida Panthers had signed a one year deal to play with the Capitals last season.  Vokoun has a career record of 287-284-78, along with a 2.55 goals-against average, .917 save percentage and 48 shutouts in 680 games.  With the emergence of Braden Holtby for the Caps during this year's playoffs and solid play from Michael Neuvirth, there was really no reason for the Caps to bring back Vokoun  who posted a 25-17-2 record, 2.51 goals-against average, .917 save percentage and four shutouts in 48 games including a 1 – 0 shutout of the Pens in early January.
Vokoun should bring some stability to the back up goalie position that has seen the likes of Ty Conklin, Mathieu Garon and Brent Johnson over the last four years.