Over the years the Penguins, a team known for their great locker room chemistry, have gotten by without great line chemistry on the ice. Sidney Crosby, not unlike Mario Lemieux in his heyday, has seen players come and go on his line. Sometimes players don't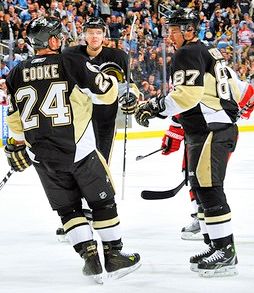 last 60 minutes as his winger. Evgeni Malkin on the other hand has found the perfect line mates. Taking a look at what makes his line work could shine some light on what Crosby needs.
Malkin's line is a simple mixture. Evgeni Malkin plays the lead role as "The Super Talented Center", James Neal plays "The Shooter" and Chris Kunitz has the role of "The Scrappy go to the Net Guy".
Crosby's line already has the "Super Talented Center". That part was easy.  "The Shooter" part gets a bit more complicated. Dan Bylsma has stated that he plans on playing Crosby between Tyler Kennedy and Matt Cooke tonight in an effort to keep Crosby's minutes down going into a weekend that has three games in four nights.
Matt Cooke who has Chris Kunitz's role on the Penguins' second powerplay is perfect for "The Scrappy go to the Net Guy" on Crosby's line. Cooke has also been around enough to know that's not where his role will end. He will also be the guy that needs to jump in and stop players from taking shots at Crosby, basically the role Matt Cooke was born to play.
As far as "The Shooter" role on Crosby's line first goes to Kennedy who is 3rd on the Penguins in shots per game behind Malkin & Neal. The problem with Kennedy is his 4% shooting percentage. That shooting percentage will surely climb fast having one of the best play makers in the league feeding him passes. I think you may see Kennedy in this role for three games and Bylsma will assess the job he has done from there..
Jordan Staal has not only been mentioned as a winger for Crosby, Dan Bylsma also suggested Crosby may get some time as a winger on Jordan Staal's line. "You'll see something we've never seen before which is 87 and 11 on the ice together" Bylsma Said "Perhaps as we go here we might see #87 on wing with 11 too in certain circumstances".
An interesting thing that not many Penguins fans know is that Jordan Staal has more goals per game than James Neal even though he gets 1/2 the powerplay time as Neal and most of that is on the 2nd powerplay. Staal also has a great chemistry with Matt Cooke which could really make for a great line.
The big problem with Staal and Cooke on Crosby's line would be that Staal and Cooke have major roles in penalty killing on the team and Crosby has a major powerplay role. If a particular game has a bunch of penalties, getting that line together could be a tough job for the coaches.
Another shooter option would be Pascal Dupuis. He has fit in with Crosby in the past and I'm sure that if Staal and Kennedy for some reason do not work out, you will see Crosby reunited with Dupuis once again.
However things works out with "The Shooter" aspect of Crosby's line, I willing to bet you will see a whole lot of Matt Cooke in the mix.