When the Nashville Predators rolled into town to take on the Penguins in a big cross-conference tilt on Thursday evening, all eyes were focused on an intriguing matchup between Marc-Andre Fleury and the Preds' equally gifted Pekka Rinne. However, the battle of the league's winningest goalies proved to be no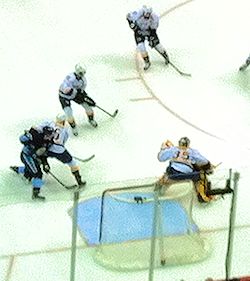 contest. Paced by Fleury's 29 saves and an eight-point night by the "Firing Line," the Pens bombed the Preds 5-1.
Bolstered by trade-deadline acquisitions Hal Gill and Andrei Kostitsyn—not to mention Evgeni Malkin's pal Alexander Radulov—Nashville figured to provide a stiff test for the black and gold. Indeed, many experts are touting the refurbished Predators as a legitimate Cup contender. But the white-hot Pens (25-4-2 since January 13) took control early and never let up.
Just past the one-minute mark Malkin barreled into the Preds' zone and beat Rinne with a knuckling slap shot to the glove hand side. Before the visitors could regroup Pascal Dupuis deflected a Kris Letang rocket past Rinne at 4:06 to stake the blue-clad Pens to a 2-0 lead.
At the far end of rink, Fleury quickly established his superiority over his more heralded counterpart. Six minutes in "Flower" stopped Mike Fisher cold from the doorstep. With three minutes left in the period No. 29 made another sparkling save to deny Gabriel Bourque from close range.
"He's been outstanding," Steve Sullivan said. "He's a star. Tonight is a prime example. It looks like an easy game, but there were prime scoring chances that he denied. He is a star every night."
While Fleury was turning in a pretty fair imitation of a brick wall, the Penguins continued to chip away at Rinne. After they killed a tripping penalty to Malkin early in the second period, James Neal pounced on a ghastly giveaway by Francis Boullion. The big winger slid a short pass to Matt Cooke, who flipped the puck over Rinne's glove for his career-best 17th goal. Minutes later Chris Kunitz scored on a deflection off Shea Weber's skate to run the score to 4-0.
Nashville finally nicked Fleury for a goal at 12:01, when Radulov swept home a rebound from five feet away. But Malkin countered with his 45th goal of the season (and second of the night) early in the third period to put the game on ice.
"If I had to vote today, there's no question he'd be the MVP for me," Predators coach Barry Trotz said. "I just saw him once up close and he was great."
Ice Chips
The Penguins clinched their sixth-consecutive playoff berth … Neal (4 assists) earned the No. 1 star for the second game in a row … Malkin was voted No. 2 star … Kunitz (a goal and an assist) was named No. 3 star … Fleury leads the NHL with 40 wins … Letang picked up two assists … Paul Martin was plus-3 … Sidney Crosby (plus-1) was held without a point for the fifth time this season … Nashville out-shot Pittsburgh (30-23) … The Pens finished with a record of 13-2-3 against the Western Conference … Matt Niskanen (upper-body injury) left the game following a hit by Jordan Tootoo … Richard Park dressed in place of Eric Tangradi … Dustin Jeffrey, Brent Johnson, Ben Lovejoy, Tangradi, and Joe Vitale were scratches.
On Deck
The Penguins (46-21-6) travel to Ottawa (37-27-10) to face the Senators on Saturday night. The Pens trail the Eastern Conference-leading Rangers by a point (99-98).
*Be sure to check out Rick's new book, "100 Things Penguins Fans Should Know and Do Before They Die" at TriumphBooks.com. It features 296 pages of bios, stories, anecdotes and photos from the team's colorful past in a compelling, easy-to-read style. Whether you're a die-hard booster from the days of Jean Pronovost or a big fan of Sid and Geno, this book is a must have for any true Penguins fan.
Don't forget to check out Rick's first book, "Total Penguins," at TriumphBooks.com. A complete and comprehensive book on the team's rich and storied history, it's filled with season-by-season summaries, player profiles and stats, bios on coaches, general managers and owners, photos from the "Post-Gazette" archives, and much, much more.
*Be sure to check out Rick Buker's books,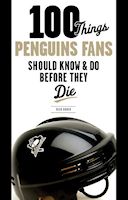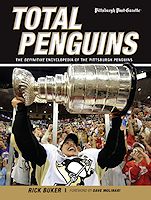 available at TriumphBooks.com, Amazon.com, and BarnesandNoble.com