As a long-time Penguins fan, writing the summary for yesterday's Game 6 loss to the Flyers was one of the hardest things I've ever had to do. It was somewhat akin to writing an obituary for a dear friend who suddenly had passed away.
Watching the game was even more painful. With dreams of a dramatic comeback from an 0-3 series deficit dancing in their heads, the Penguins never got untracked. Indeed, the enduring image from Sunday's defeat occurred five seconds in, when Philly superstar Claude Giroux deposited our captain, Sidney Crosby, on his wallet. That pretty much summed up the whole game—if not the entire series—in a nutshell.
Give Philadelphia credit. While the Pens appeared to be skating in mud, the Flyers played with purpose and fire. They scored early. They capitalized on the power play. They forechecked hard. They protected their goalie to the tune of 40 blocked shots. When Evgeni Malkin scored a potential momentum-changing goal, they immediately countered to take the wind out of our sails. In short, Philly did all the right things.
The Flyers also got big-time performances from their best players. Giroux, who had a fabulous series (14 points), scored the game-opening goal and assisted on two others. Philly's leading regular-season goal getter, Scott Hartnell, notched the game-winner by diving into the crease on his belly and poking the puck home. Maybe it was goaltender interference and maybe it wasn't. Either way, Hartnell displayed a ton of passion.
Contrast that with the play of Crosby and Malkin, who tallied one point between them in Games 5 and 6. To his credit, Geno tried his best. But Sid's stat line from yesterday (0 points, minus-3) was a far cry from a similar Game 6 in Philadelphia three short years ago when he scored two huge goals to win the series. We're so accustomed to seeing No. 87 come up big on a big stage, I couldn't help but be disappointed.
I must confess I never saw this coming. I knew the Flyers would provide a stiff test. After all, they'd beaten us four out of six during the regular season. And they're a lot more skilled and talented than most fans in the 'Burgh want to admit.
Still, I thought the Flyers would be no more than a formidable speed bump on the road to a fourth Stanley Cup. The Penguins had too many horses to lose. I even picked our boys to win it all in a hockey pool.
But the Pens simply made too many mistakes. They dug themselves a deep and precarious hole by blowing 3-0 and 3-1 leads in Games 1 and 2. Likewise, a team can't allow 15 special-teams goals in six games and expect to hang around very long.
It's hard to know what lies ahead for our Penguins. With a core consisting of Crosby, Malkin, Kris Letang, James Neal, Jordan Staal, and Marc-Andre Fleury they're still an exceptional bunch. Yet I couldn't help but feel that I watched more than a season-ending loss yesterday. I felt like I witnessed a changing of the guard, too. The Flyers—with all their young talent—suddenly appear to be the team of the future.
And the Penguins? Only time will tell.
*Be sure to check out Rick Buker's books,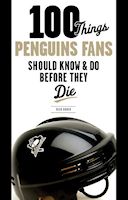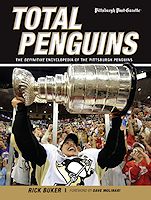 available at TriumphBooks.com, Amazon.com, and BarnesandNoble.com