There is one thing that will make a player a fan favorite in Pittsburgh and that is shooting the puck. Penguins fans have stood in the stands and screamed "shoot the puck" for ages, even during warm-ups.  James Neal & Matt Niskanen just one year away from being traded from the Dallas Stars are leading the Pittsburgh Penguins in shots.  Maybe there's something in the Texas water.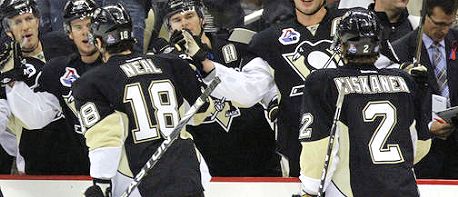 James Neal leads the entire NHL in shots right now with a whopping 350, 97 of which have missed the net.  Matt Niskanen leads the Penguins defense in shots with 149 and same as Neal, leads his position on the Penguins in missed shots with 47.
This shoot first ask questions later attitude is rubbing off on other players also.  Evgeni Malkin who leads the NHL in shots on net has his most shots on net per game since entering the NHL, same goes for players like Pascal Dupuis and Chris Kunitz. Even the Penguins as a team have their highest shots on goal per game average ever this late in the season.
James Neal is Struggling..
James Neal is struggling a bit lately with only 3 goals in February and it is very similar to the same problem he had when he first came to the Penguins last year and had 1 goal in 20 games.  Neal also hasn't scored a powerplay goal since January 24th.  The problem?  He's trying to hard, a problem more coaches in the NHL would like their players to have.
Neal fresh off signing a $30 million dollar contract with the Penguins has been trying to prove he's worth it,  which is very similar to last year when he was trying to prove his value to the team.  Neal is best when he just shoots the puck.
The Alex Goligoski for Neal and Niskanen is not as one sided as everyone in Pittsburgh thinks..
If you ask anyone in Pittsburgh, the Penguins robbed the Dallas Stars and Penguins GM Ray Shero may have made his best trade ever.   James Neal has 30 goals and is possibly on his way to 40 was a robbery in itself.   Matt Niskanen ended up being a solid defenseman and all Dallas got was Goligoski.
The above is all true but with a few caveats.  James Neal would have never have scored this many goals in Dallas on a line with Dallas' #1 center Mike Ribero let alone have even been on the number one line or powerplay.  Dallas has two left wingers that would have been ahead of Neal on their depth chart.  All-Star Jamie Benn and Loui Eriksson.
Neal is very aware that getting to play with Evgeni Malkin is making his numbers go up exponentially and showed how aware he is by giving the Penguins a "Real Deal" at just $5 million a year.  (if you question if that's a deal reference the contracts Edmonton's Hemsky and Carolina's Ruutu just signed)
Defenseman Matt Niskanen was struggling for playing time in Dallas and had been a healthy scratch a few times.  He does seem to fit into the Penguins system better than he did the Stars.
The trade itself was a win for both sides.  What Dallas needed most was a skilled defensive puck mover/powerplay guy and they got that in Alex Goligoski.  Are they happy with what they got?  Extremely.  They just signed Goligoski to a 4 year $18.4 million dollar deal that starts next year making Goligoski their number 2 most paid player and yes, Goligoski will be making more than Kris Letang.  Dallas lost a third line winger and 6th or 7th defenseman and gained a #1 defenseman.
We all are aware of what the Penguins gained.  What the Penguins lost was their only other defensive play maker.  Think about it. If Kris Letang gets injured in the playoffs Pittsburgh's fan favorite Paul Martin is the guy that will be filling in on the powerplay.  That's when you'll really hear people scream "Shoot the Puck"