In a battle of two of the NHL's hottest teams, the Pittsburgh Penguins rode another stellar effort by goaltender Marc-Andre Fleury to a crisp 2-1 victory over the Phoenix Coyotes.
Entering Monday night's contest at CONSOL Energy Center on a five-game roll, the Penguins drew first blood at 11:44 of the opening period thanks to a pretty goal by ex-Coyote Zbynek Michalek. Gathering in a short drop pass from Jordan Staal, "Zibby" cut toward the slot and unleashed a crackling wrister that beat 'Yotes goalie Mike Smith to the blocker side.
"He (Michalek) needs to do a little better with his mental preparation and in our scouting report and pretend we play Phoenix every night," Penguins coach Dan Bylsma joked.
The boys from the 'Burgh cashed in again three minutes later, courtesy of a gritty play by Evgeni Malkin. The big Russian shrugged off a double hit along the wall by Antoine Vermette and Oliver Ekman-Larsson and moved the puck to Chris Kunitz. Following Michalek's lead, "Kuny" stepped on the gas and beat Smith with an almost identical shot to the stick side to stake the Pens to a 2-0 lead.
The action intensified during a wild and woolly second period. Flashing the form that earned him team MVP honors in 2010-11, Fleury stopped Vermette cold during a Phoenix power play. Minutes later "Flower" turned in a series of spectacular scrambling saves to thwart Boyd Gordon and Patrick O'Sullivan. Not to be outdone, his counterpart Smith made a leaping circus-style save on Matt Niskanen and sticked aside a hard shot by James Neal with 65 seconds left in the frame.
Down by two entering the final 20 minutes, the Coyotes sliced the Penguins' lead in half at 1:27. Bursting into the Pittsburgh zone on a 3-on-2, Martin Hanzal dished a pass to Radim Vrbata, who quickly fed Ray Whitney. The 39-year-old wonder chipped the puck home for his 21st goal of the season. Try as they might, however, the determined Coyotes couldn't push the equalizer past Fleury, who made 36 saves in a sparkling performance.
"He's been great all season long and he's the reason why we're up there in the standings," Michalek said of Fleury. "We can rely on him every single night. They came at us hard. He made so many unbelievable saves."
Ice Chips
Fleury was awarded the No. 1 star … Michalek (a goal and a plus-1) was named No. 2 star … Kunitz and Brooks Orpik paced the Pens with five hits apiece … Malkin (an assist) moved ahead of Steven Stamkos in the scoring race (81-80) … Phoenix out-shot Pittsburgh (37-28) … The Penguins are 18-4-1 since losing six games in a row … The Pens (83 points) maintain a hold on second place in the Atlantic Division (fourth in the Eastern Conference) … Tyler Kennedy returned to the lineup after missing 11 games with a high-ankle sprain … Brian Strait (recalled from Wilkes-Barre) dressed in place of Deryk Engelland (lower-body injury) … Sidney Crosby, Engelland, Dustin Jeffrey, Brent Johnson, Kris Letang, and Eric Tangradi were scratches.
On Deck
The Penguins (39-21-5) host Toronto (30-28-7) on Wednesday night. Ex-Pen Randy Carlyle replaced Ron Wilson as the Maple Leafs' coach on Friday.
*Be sure to check out Rick's new book, "100 Things Penguins Fans Should Know and Do Before They Die" at TriumphBooks.com. It features 296 pages of bios, stories, anecdotes and photos from the team's colorful past in a compelling, easy-to-read style. Whether you're a die-hard booster from the days of Jean Pronovost or a big fan of Sid and Geno, this book is a must have for any true Penguins fan.
Don't forget to check out Rick's first book, "Total Penguins," at TriumphBooks.com. A complete and comprehensive book on the team's rich and storied history, it's filled with season-by-season summaries, player profiles and stats, bios on coaches, general managers and owners, photos from the "Post-Gazette" archives, and much, much more.
*Be sure to check out Rick Buker's books,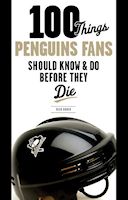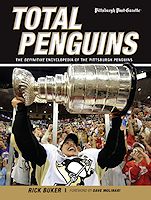 available at TriumphBooks.com, Amazon.com, and BarnesandNoble.com