Entering Saturday afternoon's matchup of Eastern Conference heavyweights at TD Garden, both Pittsburgh and Boston were experiencing goal-scoring droughts. While the Penguins had been blanked by Toronto in their most recent outing, the Bruins were coming off a lackluster 3-0 whitewashing at the hands of Carolina.
Neither team struck pay dirt until late in a sluggish first period, when Boston's Rich Peverley handed the Penguins a power play. Eight seconds before the buzzer NHL scoring leader Evgeni Malkin scooped up a Chris Kunitz rebound and zipped the puck past All-Star goalie Tim Thomas for his team-high 28th goal of the season.
Unfazed, Boston cranked up the heat to begin the second period. The turning point came nine minutes in when Pascal Dupuis drew a double-minor for high-sticking. With the home team poised the even the score Marc-Andre Fleury rose to the occasion, stuffing a backdoor attempt by Joe Corvo to pace a stellar penalty kill.
As the momentum began to swing in their favor, the Steel City sextet picked up the hitting. Late in the period Brooks Orpik launched the Bruins' Daniel Paille into orbit following a thunderous collision at center ice.
Determined to escape Beantown with a win, the Pens bolted from the starting blocks to start the final period. On the opening shift Kunitz ran monstrous Zdeno Chara hard into the end boards. Moments later Matt Niskanen picked off an errant pass in the neutral zone and sent the Pens in on a 3-on-2 break. Dupuis fired a shot off Thomas's pads that caromed to Dustin Jeffrey, who slipped a short backhand pass to Matt Cooke. "Cookie" swatted his second goal in three games past Thomas to up the Pens' lead to two.
Emboldened, the "Peskies" continued to carry the physical play to the much larger Bruins. During one bristling sequence Kunitz and James Neal hammered Boston defenders Johnny Boychuk and Chara with simultaneous body checks. The Pens appeared to be in complete command until Corvo beat Fleury with a floater from the left point at 6:45.
The action intensified as both clubs shifted into overdrive. With just under nine minutes to play Fleury made a huge left-pad save on Gregory Campbell. Thomas returned the favor at 13:51, gobbling up a one-timer by Tyler Kennedy. Talented Tyler Seguin split the Pens' defense at the 18-minute mark, but once again Fleury held firm. Literally saving his best for last, "Flower" made a sensational game-saving stop on Brad Marchand in the waning seconds following a dead giveaway by Orpik.
"Marc-Andre was exceptional," Penguins coach Dan Bylsma said. "He was able to control the rebounds and limit the opportunities they had."
Ice Chips
Fleury (28 saves) was named No. 1 star … Flower ran his personal winning streak to nine games … Boston outshot Pittsburgh (29-28) … Neal (one assist) was voted No. 3 star … The Penguins out-hit the Bruins 28-17 … Kunitz paced the Pens with six hits … Jeffrey has five points in five games versus Boston … Deryk Engelland (five hits) returned to the lineup after missing Wednesday night's game … Cal O'Reilly made his Penguins debut, centering the "Irish Line" for Kennedy and Steve Sullivan … Arron Asham, Sidney Crosby, Simon Despres, Ben Lovejoy, Colin McDonald, and Jordan Staal were scratches.
On Deck
The Penguins (30-18-4) fly to New Jersey (29-19-3) for a Sunday matinee game at the Prudential Center. The Pens are a dismal 1-5-1 in their last seven trips to Newark.
*Be sure to check out Rick's new book, "100 Things Penguins Fans Should Know and Do Before They Die" at TriumphBooks.com. It features 296 pages of bios, stories, anecdotes and photos from the team's colorful past in a compelling, easy-to-read style. Whether you're a die-hard booster from the days of Jean Pronovost or a big fan of Sid and Geno, this book is a must have for any true Penguins fan.
Don't forget to check out Rick's first book, "Total Penguins," at TriumphBooks.com. A complete and comprehensive book on the team's rich and storied history, it's filled with season-by-season summaries, player profiles and stats, bios on coaches, general managers and owners, photos from the "Post-Gazette" archives, and much, much more.
*Be sure to check out Rick Buker's books,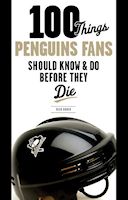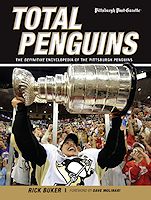 available at TriumphBooks.com, Amazon.com, and BarnesandNoble.com