As they prepared to square off at CONSOL Energy Center for Sunday night's tilt, both the Pittsburgh Penguins and New Jersey Devils felt they had something to prove. The Penguins were determined to bounce back from a sloppy 8-4 loss to Ottawa on Saturday. For the visiting Devils, it was more personal. They hoped to atone for an embarrassing 5-2 loss suffered at the hands of the Pens eight days ago.
While Peter DeBoer's crew fell short of their quest, it was mission accomplished for the black and gold. Powered by Marc-Andre Fleury's 32 saves and two-point efforts from five different players, the Pens defeated the Devils 5-2 to earn their 10th straight win on home ice.
Despite playing their third game in four nights, the Penguins opened the game with plenty of hop. After Fleury stopped Travis Zajac in the first minute, Evgeni Malkin pried the puck loose from Martin Brodeur along the end boards and fed Chris Kunitz. "Kuny" made no mistake, whipping his 23rd goal into a wide-open net.
As the old saying goes, what's good for the goose is good for the gander. With Fleury running interference behind his cage Sidney Crosby chipped the puck past Deryk Engelland to the Devils' Zach Parise. The hustling winger pounced on the opportunity to knot the score at 1-1.
After the Pens piled up an early 9-3 edge on the shot clock, the ice began to tilt in favor of New Jersey. Fortunately, Fleury was in top form, robbing Parise from close range on a power play and tracking down a Bryce Salvador blast through heavy traffic.
Not to be outdone, Brodeur kept the game even with a sprawling poke check on Malkin. But as the clock ticked down to the final minute of the period Jordan Staal gathered in a pass from Matt Cooke. Using his huge wingspan to full advantage, the rangy center beat Brodeur to the blocker side for his first goal in nine games.
Down but not out, the Devils came at the Penguins hard in the second period. They tested Fleury from every conceivable angle while firing off 13 shots, but once again No. 29 stood tall. Crosby countered with a brilliant move around Marek Zidlicky midway through the frame, but the Pens' captain couldn't solve Brodeur. However, with just over four minutes left in the period Pascal Dupuis scored off a fire-drill rush to stake the locals to a 3-1 lead.
New Jersey closed to within one early in the third period, courtesy of an Ilya Kovalchuk goal from close range. But Crosby would not be denied. Just 78 seconds after "Kovy's" tally, No. 87 burned Zidlicky a second time and beat Brodeur with a sizzling wrist shot. Malkin potted an empty-netter at 18:28 as the Pens reached the 100-point plateau for the fifth time in six seasons.
"To get the win here today feels good," Crosby said afterward.
Ice Chips
Crosby (a goal and an assist) was named the No. 1 star … Dupuis (No. 2 star) has the longest current points streak in the NHL (10 games) … Malkin (No. 3 star) upped his league-best points total to 97 … Fleury (41 wins) and Dupuis (50 points) established new single-season highs … Dupuis, Kunitz, and Staal (two points apiece) each notched their 23rd goal … New Jersey out-shot Pittsburgh (34-27) … Kris Letang cracked helmets with Dainius Zubrus in the second period, but returned to action … Crosby shook off a hard check by Andy Greene in the third period … Ben Lovejoy left in the first period with an undisclosed injury … Dustin Jeffrey and Richard Park dressed in place of Steve Sullivan and Eric Tangradi … Brent Johnson, Matt Niskanen, Sullivan, Tangradi, and Joe Vitale were scratches.
On Deck
The Penguins (47-22-6) face the Islanders (31-33-11) at CONSOL Energy Center on Tuesday night. The Pens trail the Eastern Conference-leading Rangers by one point.
*Be sure to check out Rick's new book, "100 Things Penguins Fans Should Know and Do Before They Die" at TriumphBooks.com. It features 296 pages of bios, stories, anecdotes and photos from the team's colorful past in a compelling, easy-to-read style. Whether you're a die-hard booster from the days of Jean Pronovost or a big fan of Sid and Geno, this book is a must have for any true Penguins fan.
Don't forget to check out Rick's first book, "Total Penguins," at TriumphBooks.com. A complete and comprehensive book on the team's rich and storied history, it's filled with season-by-season summaries, player profiles and stats, bios on coaches, general managers and owners, photos from the "Post-Gazette" archives, and much, much more.
*Be sure to check out Rick Buker's books,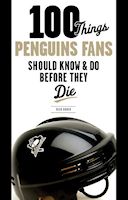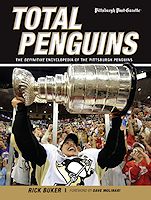 available at TriumphBooks.com, Amazon.com, and BarnesandNoble.com