Hockey games can be an awful lot like shooting craps, especially when they go into overtime or a shootout. Games are won and lost on a single shot or a fortunate bounce of the puck, much like a lucky roll of the dice.
That's why it's nice to have a goalie like Marc-Andre Fleury guarding the pipes. On Tuesday night in St. Louis, "Flower" took the iffy out of overtime with a bushel full of stunning saves to pace the streaking Penguins to a 3-2 shootout win over the Blues.
"Just some unbelievable, acrobatic saves, flash of the pads," Penguins coach Dan Bylsma said. "In the shootout again he comes up just big enough."
Beating the Blues at Scottrade Center was no small feat. Since assuming the coaching reigns from Davis Payne in November, wily old Ken Hitchcock had led his aggressive young team to a sterling record of 23-6-6.
Predictably, the opening period was a Mexican standoff as each club generated a dozen shots, including five scoring chances apiece. In the second period, however, the Pens began to flex their offensive muscle. At 3:26 Paul Martin outworked two Blues along the end boards and chipped the puck to James Neal in the left circle. Neal beat All-Star Brian Elliot with a one-timer between the pads for his team-best 27th goal of the season.
The black and gold padded their lead to 2-0 nine minutes later when Steve Sullivan swatted a fluttering puck home from the slot. But St. Louis struck back at 15:16, thanks to a turnover by Dustin Jeffrey in the neutral zone. Chris Stewart fed Patrik Berglund, who beat Fleury with a beautiful backhand-to-forehand move for his first goal in eight games.
It would not be his last. After being hooked by Kris Letang on a shorthanded breakaway, Berglund was awarded a penalty shot. The big Blues winger snapped the puck past Fleury on a nearly identical maneuver to knot the score.
Flower more than made amends in overtime, stopping Berglund from the left-wing circle with 60 seconds remaining. Twenty-one ticks later he robbed Vladimir Sobotka with a Gumby-like pad save that bordered on grand larceny.
With the shootout knotted at 1-1, Chris Kunitz showed forehand before beating Elliot with a pretty backhander to send the Pens into the All-Star break on a seven-game winning streak.
"Great way to go into the break," Jeffrey said. "This win feels good."
"We've got a good little roll going right now," Neal added. "We're just worried about winning games right now."
Ice Chips
Fleury (32 saves) was named No. 1 star … Evgeni Malkin (a shootout goal) was awarded the No. 3 star … Pittsburgh out-shot St. Louis 39-34 … The Blues won the faceoff battle 30-29 … Neal's goal was the 100th of his NHL career … Sullivan has 51 career points against the Blues … Brooks Orpik paced the Pens with five hits … Enforcer Steve MacIntyre was recalled from Wilkes-Barre and dressed in place of Eric Tangradi … Arron Asham, Sidney Crosby, Simon Despres, Ben Lovejoy, Jordan Staal, and Tangradi were scratches.
On Deck
The Penguins (28-17-4) are off until January 31, when they tangle with Toronto (25-19-5) at CONSOL Energy Center in the front end of a home-and-away set. The Maple Leafs beat the Pens 4-3 in Toronto on October 29.
*Be sure to check out Rick's new book, "100 Things Penguins Fans Should Know and Do Before They Die" at TriumphBooks.com. It features 296 pages of bios, stories, anecdotes and photos from the team's colorful past in a compelling, easy-to-read style. Whether you're a die-hard booster from the days of Jean Pronovost or a big fan of Sid and Geno, this book is a must have for any true Penguins fan.
Don't forget to check out Rick's first book, "Total Penguins," at TriumphBooks.com. A complete and comprehensive book on the team's rich and storied history, it's filled with season-by-season summaries, player profiles and stats, bios on coaches, general managers and owners, photos from the "Post-Gazette" archives, and much, much more.
*Be sure to check out Rick Buker's books,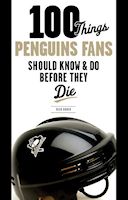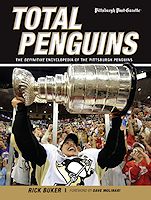 available at TriumphBooks.com, Amazon.com, and BarnesandNoble.com