The objective in any survival situation is to adapt, adjust, and overcome. With their playoff lives on the line the victory-starved Penguins achieved all three of those goals during Game 4 on Wednesday night.
Three days after the Flyers delivered a beat-down that left them teetering on the brink of elimination, the boys from the 'Burgh responded with a little shock and awe of their own. Despite missing four regulars the Pens splintered the orange and black before a packed house at Wells Fargo Center, thanks to Jordan Staal's hat trick and a bounce-back two-goal effort from MVP candidate Evgeni Malkin. The game also featured a turnaround performance by Marc-Andre Fleury, who stopped 22 of 25 shots following a shaky start.
In a wild and woolly affair that harkened back to the days of the Ottawa Silver Seven and the Dawson City Nuggets, Claude Giroux staked the Flyers to an early lead with a power-play goal at 1:26. Two minutes later Malkin tied the score for the Pens. Working a give-and-go with Pascal Dupuis, the rangy Russian drove to the net and popped home a rebound off Ilya Bryzgalov's pads for his first goal of the series.
The Pens snatched the lead at 8:05, courtesy of a power-play tally by Matt Niskanen. However, the visitors soon got into penalty trouble and the opportunistic Flyers made them pay. Forty-six seconds after Kimmo Timonen beat Fleury through the five-hole, Jakub Voracek cashed in from the right-wing circle on a pretty feed from Wayne Simmonds.
Up 3-2, the quick-striking Flyers were poised to deliver the knockout punch. This time, however, the Penguins showed some moxy. On the ensuing rush Sidney Crosby deflected Niskanen's heavy blast from the point past Bryzgalov to knot the score at 3-3. Ninety seconds later Staal converted on a slick pass from Philly native Eric Tangradi to send his team to the locker room with a one-goal edge.
The Flyers owned the second period during the regular season, outscoring their opponents by a whopping 98-71 margin. However, the Pens were just getting revved up. Following a pair of big saves by Fleury on Brayden Schenn and Jaromir Jagr, Kris Letang beat Bryzgalov with a sizzling shot to the blocker side to chase the beleaguered goalie.
Backup Sergei Bobrovsky was given the same rude treatment as his countryman. The black and gold shifted into overdrive, pounding four pucks past "Bob" in less than nine minutes, including a pair of goals by Staal and one each from Steve Sullivan and Dupuis. Seething with frustration, Flyers cheap-shot artist Zac Rinaldo brutally cross-checked Zbynek Michalek to mar an otherwise perfect period of hockey for the Steel City sextet.
Malkin dashed any hopes for another miraculous Philly comeback early in third period. Scooping up a made-to-order rebound, No. 71 ripped the puck past Bobrovsky from the left-wing circle to cap a gritty, disciplined effort.
"We've given ourselves a chance to get back to Pittsburgh," Crosby said. "And that's all we wanted out of this game."
Ice Chips
Staal, Malkin, and Niskanen were named the three stars … Staal recorded his first playoff hat trick … Crosby, Malkin, Staal, and Sullivan enjoyed three-point games … Fourteen Penguins registered points (including Fleury) … The Pens tied their club record for most goals in a playoff game … Pittsburgh outshot Philadelphia (36-25) … The Pens converted on four of nine power plays … Simon Despres, Brian Strait, Tangradi, and Joe Vitale replaced Craig Adams, Arron Asham, James Neal (suspensions) and Paul Martin (injury) … Adams, Asham, Dustin Jeffrey, Ben Lovejoy, Martin and Neal were scratches.
On Deck
The Penguins square off with the Flyers in a must-win Game 5 at CONSOL Energy Center on Friday night. The Pens have overcome 1-3 deficits twice in their history ('92 and '95 vs. Washington).
*Be sure to check out Rick's new book, "100 Things Penguins Fans Should Know and Do Before They Die" at TriumphBooks.com. It features 296 pages of bios, stories, anecdotes and photos from the team's colorful past in a compelling, easy-to-read style. Whether you're a die-hard booster from the days of Jean Pronovost or a big fan of Sid and Geno, this book is a must have for any true Penguins fan.
Don't forget to check out Rick's first book, "Total Penguins," at TriumphBooks.com. A complete and comprehensive book on the team's rich and storied history, it's filled with season-by-season summaries, player profiles and stats, bios on coaches, general managers and owners, photos from the "Post-Gazette" archives, and much, much more.
*Be sure to check out Rick Buker's books,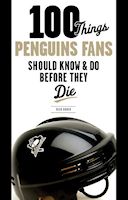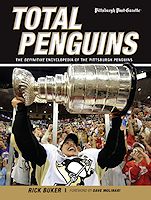 available at TriumphBooks.com, Amazon.com, and BarnesandNoble.com