Sometimes in hockey it's the trades you don't make that can best help your team. And so it was with Penguins general manager Ray Shero. As the 2012 NHL trade deadline approached he took a good, long look at his club, weighed the comparative strengths and weaknesses against a decidedly underwhelming pool of available talent, and chose to stick with what he has.
"Our roster is our roster," he told a cluster of reporters at CONSOL Energy Center. "I'm comfortable with this team moving forward."
Good for Shero. And good for the Penguins, too.
There's a reason why Shero's one of the best—if not the best—GM in hockey. To borrow from an old Kenny Rogers song, he knows when to hold 'em and when to fold 'em.
Would it have been nice to pick up an extra defenseman? Sure. But you know what? Ben Lovejoy arguably is the best No. 7 d-man in the league. A scoring winger? Don't forget Tyler Kennedy and (hopefully) Sidney Crosby will be returning soon. How about a backup goalie? Okay, you've got me there. But Shero obviously believes incumbents Brent Johnson and Brad Thiessen can hold down the fort.
Actually, you had the sense all along that he really likes his team—with good reason. It's a group well-suited to play Dan Bylsma's pressure-cooker, puck possession game. There's talent, speed, and grit from top to bottom. All of the defensemen—even bruisers Deryk Engelland and Brooks Orpik—can skate and move the puck. Marc-Andre Fleury is the perfect goaltender to backstop this hard-charging bunch—experienced, unflappable, and oh so athletic.
Plus, the Penguins are jelling at just the right time. They have really good chemistry. The special teams are clicking. The "Firing Line" of Evgeni Malkin, James Neal, and Chris Kunitz is … well … on fire. Jordan Staal, Steve Sullivan, and Pascal Dupuis have emerged as a dangerous second line that features a terrific blend of power, speed and creativity. Matt Cooke suddenly seems reborn, balancing his customary passion with a newfound sense of discipline while providing the secondary scoring so vital for a championship run. Blue-collar guys like Craig Adams, Arron Asham, and Joe Vitale know their role and play it to the hilt. Even those twin lightning rods of discontent—Paul Martin and Zbynek Michalek—have stepped up their play recently.
Heck, even without Crosby this team looks like it can go deep into the playoffs. And with Sid? You get the picture.
*Be sure to check out Rick's new book, "100 Things Penguins Fans Should Know and Do Before They Die" at TriumphBooks.com. It features 296 pages of bios, stories, anecdotes and photos from the team's colorful past in a compelling, easy-to-read style. Whether you're a die-hard booster from the days of Jean Pronovost or a big fan of Sid and Geno, this book is a must have for any true Penguins fan.
Don't forget to check out Rick's first book, "Total Penguins," at TriumphBooks.com. A complete and comprehensive book on the team's rich and storied history, it's filled with season-by-season summaries, player profiles and stats, bios on coaches, general managers and owners, photos from the "Post-Gazette" archives, and much, much more.
*Be sure to check out Rick Buker's books,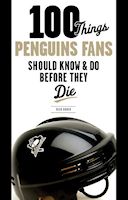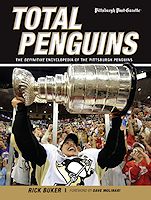 available at TriumphBooks.com, Amazon.com, and BarnesandNoble.com