Entering Sunday afternoon's contest with Columbus at CONSOL Energy Center, the Penguins were keenly aware of their recent penchant for tanking in the second of back-to-back games. Determined to beat the "back-end blues," the Pens rode a pair of power-play goals and a 22-save performance by rookie Brad Thiessen to a 4-2 win over the visiting Blue Jackets.
The black and gold overcame a determined effort by a down-but-not-out Columbus club (5-4-1 in their last nine games), not to mention the sharp goaltending of Curtis Sanford (36 saves). Sporting gaudy powder-blue pads, the veteran backup kept the high-powered Penguins off the scoreboard for nearly 40 minutes.
At the other end of the ice Thiessen displayed a cool demeanor in his NHL debut, not to mention a quick glove hand. After taking his first shot off the mask, the 25-year-old netminder made a pair of key saves on speedy Cam Atkinson and ex-Red Wing Brett Lebda.
Following a scoreless opening period Columbus pulled ahead midway through the second frame on a shorthanded tally by Rick Nash. The subject of numerous trade rumors, the big winger scooped up a pretty bounce pass off the sideboards by Nikita Nikitin and rifled the puck past Thiessen on the stick side.
Stymied by the Blue Jackets' tight checking and defensive zone coverage, the Pens struggled until the final minute of the period, when they were revived by a power-play goal. With Pittsburgh-native R.J. Umberger serving a slashing minor, James Neal fired a beautiful cross-ice pass to Evgeni Malkin at the right-wing circle. The NHL scoring leader ripped a shot in off Jack Johnson's leg to knot the score at 1-1.
Buoyed by Geno's big goal, the home team displayed plenty of hop in the third period. Chris Kunitz appeared to notch the go-ahead goal at 4:45, only to have it disallowed. Undaunted, the Pens snatched the lead a minute later on a pretty tally by Pascal Dupuis, who circled from behind the net and beat Sanford through the five hole. After the Pens had a second goal waved off, Kris Letang drilled the eventual game-winner past Sanford on the power play at 10:47.
Following an insurance goal by Joe Vitale (his fourth of the season), Vinny Prospal struck for the Blue Jackets to close the gap to 4-2. But Thiessen—last season's AHL Goalie of the Year—made a sliding right pad save on Nash with less than three minutes remaining to secure his first NHL victory.
Ice Chips
Thiessen earned the No. 1 star … Steve Sullivan (two assists) was named No. 2 star … "Sully" has a five-game points streak … Dupuis (a goal) was voted No. 3 star … Matt Cooke (two assists) has three goals and seven points in his last five games … Pittsburgh out-shot Columbus (40-24) … The Penguins played in front of their 240th consecutive home sellout … Eric Tangradi tallied his first point of the season … The Pens (77 points) maintain their hold on second place in the Atlantic Division … Dustin Jeffrey dressed in place of Arron Asham (upper-body injury) … Asham, Sidney Crosby, Brent Johnson, Tyler Kennedy, and Ben Lovejoy were scratches.
On Deck
The Penguins (36-21-5) travel to Dallas for a matchup with the Stars (33-26-4) on Wednesday night. Ex-Pen Alex Goligoski has eight goals and 26 points in 52 games.
*Be sure to check out Rick's new book, "100 Things Penguins Fans Should Know and Do Before They Die" at TriumphBooks.com. It features 296 pages of bios, stories, anecdotes and photos from the team's colorful past in a compelling, easy-to-read style. Whether you're a die-hard booster from the days of Jean Pronovost or a big fan of Sid and Geno, this book is a must have for any true Penguins fan.
Don't forget to check out Rick's first book, "Total Penguins," at TriumphBooks.com. A complete and comprehensive book on the team's rich and storied history, it's filled with season-by-season summaries, player profiles and stats, bios on coaches, general managers and owners, photos from the "Post-Gazette" archives, and much, much more.
*Be sure to check out Rick Buker's books,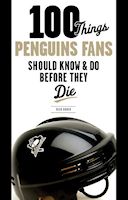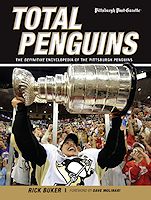 available at TriumphBooks.com, Amazon.com, and BarnesandNoble.com