With the NHL trade deadline looming just around the corner, I was scanning the Penguins' roster this morning and thinking of ways to improve the team. All of a sudden a potential deal popped into my head—ironically involving the Tampa Bay Lightning—who just happen to be in town. I thought I'd share it with our loyal PenguinPoop readers.
I propose that Pens general manager Ray Shero package reserve defenseman Ben Lovejoy and prospect Eric Tangradi to the Lightning for right wing Steve Downie. If he could wrangle a mid-round draft pick out of Bolts GM Steve Yzerman, that'd be great.
The trade would make sense for both teams. The Lightning (7-1-2 in their last 10 games) still harbor hopes of making the playoffs. Yet it's no secret they have one of the weakest defensive corps in the league. Lovejoy would give the Bolts what they so desperately need—a mobile defenseman who can move the puck and play a reliable game in his own zone.
Although I'm not especially anxious to part with the Concord, New Hampshire native, he's going to waste riding the pine in the 'Burgh. Moving Lovejoy would be a bit of a gamble—he provides wonderful insurance in case of an unforeseen injury. But I'm confident that youngster Simon Despres can plug a gap on the Pens' defense if the situation calls for it.
Nor do I really want to see Tangradi leave town. However, it's abundantly clear the strapping 22-year-old winger doesn't fit coach Dan Bylsma's speed-oriented style. He'd have a much better chance of flourishing under Tampa Bay's structured 1-3-1 system.
Now for the upside. Downie would fill a lot of voids with one bold stroke. The 5'11" 191-pounder is an explosive skater who is tailor-made for the Pens' puck-possession game. More to the point, he'd provide a potential scoring winger (22 goals in 2009-10) for Sidney Crosby, which would enable Bylsma to keep the Kunitz-Malkin-Nealtrio intact upon Sid's return. And Downie's a combative little bugger (121 penalty minutes and counting) who would brook no transgressions against the Pens' captain. Best of all, he's only 24 years old.
While it's true the former first-round pick has a checkered past (he once served a 20-game suspension), Bylsma has a way of settling guys down and getting the most out of them.
I'm no capologist, so I'm not sure how well the trade would work from a financial standpoint. Downie's 2011-12 cap hit is $1.85 million; Lovejoy's is considerably less ($525,000). Tangradi's NHL cap hit is $845,333. It might require some creative shuffling on Shero's part, but I think it's a deal worth doing.
*Be sure to check out Rick's new book, "100 Things Penguins Fans Should Know and Do Before They Die" at TriumphBooks.com. It features 296 pages of bios, stories, anecdotes and photos from the team's colorful past in a compelling, easy-to-read style. Whether you're a die-hard booster from the days of Jean Pronovost or a big fan of Sid and Geno, this book is a must have for any true Penguins fan.
Don't forget to check out Rick's first book, "Total Penguins," at TriumphBooks.com. A complete and comprehensive book on the team's rich and storied history, it's filled with season-by-season summaries, player profiles and stats, bios on coaches, general managers and owners, photos from the "Post-Gazette" archives, and much, much more.
*Be sure to check out Rick Buker's books,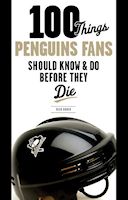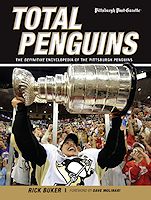 available at TriumphBooks.com, Amazon.com, and BarnesandNoble.com