You won't find Craig Adams on any All-Star ballots. Nor will you see his name listed among the NHL scoring leaders—or among the top Penguins scorers for that matter. Indeed, his major claim to fame would seem to be his exotic birthplace (Seria, Brunei Darussalam).
However, Adams is a rare commodity—a player whose value can't be fully measured by goals and assists. He hits. He blocks shots. He forechecks with the abandon of a Kamikaze pilot. He'll drop the mitts when necessary to defend a teammate or provide a spark. In short, there's no job too dirty for the lunch-pail winger to tackle.
You just know Adams is a favorite of Dan Bylsma. After all, the Penguins' coach filled a similar blue-collar role during his NHL career. Pens assistant Tony Granato is a big fan, too.
"We could be up, 10-0, or we could be down, 10-0, and, if there's a shot to be blocked, he's going to block it," Granato explained during an interview with Dave Molinari of the Pittsburgh Post-Gazette.
Selected in the ninth round of the 1996 Entry Draft by the Hartford Whalers, Adams never harbored any illusions about his role. Indeed, following a modestly productive collegiate career the Harvard grad has reached double figures in goal production just once during his 11 NHL seasons. Yet thanks to an attitude, work ethic, and attention to his defensive chores that are second to none, he's been a treasured member of two Stanley Cup champions. And he's a huge reason why the Pens' penalty killing unit has been the best in the league for the past two seasons.
"You can't rely on him, consistently, for scoring, but you can rely on him consistently for forechecking, or to be physical," Granato said. "To play hard, to play nasty, to be tough to play against. From a penalty-killing standpoint, he is—and does—exactly what he is supposed to do every time on the ice."
In one of his savviest moves since taking over as GM, Ray Shero plucked Adams off the waiver wire from Chicago on March 4, 2009, to provide toughness, experience, and leadership. The 6'0" 197-pounder immediately established himself as a valuable role player during the team's march to the Cup. Three years later he remains a vital cog in the Penguins' machine.
"He brings grit and character to the room," Shero said. "He sets a good example to the younger players."
Adams was at his bulldog best during a crucial Atlantic Division matchup with Philadelphia on February 18. With his team trailing 2-1 and shorthanded by two men, Craig led an inspired penalty kill. After single-handedly clearing the puck on two separate occasions, No. 27 set up Jordan Staal for a dramatic 3-on-5 goal. Buoyed by Adams' superb individual effort, the Pens rallied to beat the Flyers 6-4.
Needless to say, the Penguins are delighted with his work. During the summer of 2011 Shero inked the 34-year-old winger to a two-year deal worth $1.35 million. He's worth every penny.
*Be sure to check out Rick's new book, "100 Things Penguins Fans Should Know and Do Before They Die" at TriumphBooks.com. It features 296 pages of bios, stories, anecdotes and photos from the team's colorful past in a compelling, easy-to-read style. Whether you're a die-hard booster from the days of Jean Pronovost or a big fan of Sid and Geno, this book is a must have for any true Penguins fan.
Don't forget to check out Rick's first book, "Total Penguins," at TriumphBooks.com. A complete and comprehensive book on the team's rich and storied history, it's filled with season-by-season summaries, player profiles and stats, bios on coaches, general managers and owners, photos from the "Post-Gazette" archives, and much, much more.
*Be sure to check out Rick Buker's books,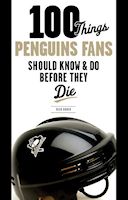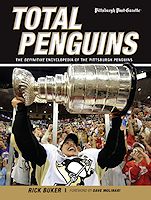 available at TriumphBooks.com, Amazon.com, and BarnesandNoble.com