To say Dan Bylsma has accomplished a lot during his three-plus seasons as Penguins coach would be an understatement roughly the size of Texas. In his first year at the helm Bylsma guided the Pens to a Stanley Cup. Last season he coaxed 106 points out of a team that was walloped by injuries, earning him the Jack Adams (coach of the year) Award. And he's already the second-winningest coach in franchise history.
Yet the job Bylsma's done behind the bench this season may outstrip any of his previous achievements. His work started way back in training camp. The popular coach raised more than a few eyebrows when he shifted talented but snake-bitten sniper James Neal to the off-wing on a line with Evgeni Malkin. The result is a one-two scoring combo as lethal as any in recent memory.
In January Bylsma faced his stiffest challenge since arriving in the Steel City. On the heels of a four-game winning streak, the Pens suddenly blew a tire over the holidays and lost six games in a row—including ugly defeats at the hands of the Devils, Flyers, and Rangers.
Worse yet, the club appeared to be coming apart at the seams. High profile players Sidney Crosby, Kris Letang, and Jordan Staal were out with injuries. Rumors swirled that a faction of players wanted to appoint an interim captain in Sid's absence. Veteran Brooks Orpik publicly called out his teammates. Clinging to eighth place in the Eastern Conference, the Pens were precariously perched on the edge of a precipice.
It was a seminal moment for the 41-year-old skipper. A lesser coach might have latched onto the injuries as an excuse for his team's poor play or altered his approach. Instead, Bylsma stuck to his guns, calling for a renewed commitment from his troops while reinforcing his puck-possession style.
"You get the news about an injured player," he said, "and at some point you understand there will be injuries, and you move on and get ready to play the next game. We need to be able to react better, play better, stay focused and keep playing our game regardless of the situation."
Boy did the Penguins respond. Since January 13, they've been on a white-hot 26-6-2 roll, including winning streaks of eight and 11 games.
Bylsma deserves a ton of credit for the turnaround. He's done a masterful job of squeezing the most out of every player on the squad, placing them in situations where they have the greatest chance to succeed. When Crosby returned to the lineup in March, Bylsma bucked conventional wisdom by inserting "Super Sid" on the third line between Matt Cooke and Tyler Kennedy. The newly formed unit promptly exploded for 13 goals in eight games.
Best of all, his players respect him and enjoy playing for him—a delicate balance that few coaches ever achieve.
"I think that everyone in this [dressing] room would think that if there's a coach out there that you want to play for, Dan would be at the top of the list," Cooke said. "He's a teacher of the game. He's willing to spend time with guys and help guys get better. He's not that far removed [from playing], so he understands and respects the players' point of view, which is a huge thing when you're a player."
The native of Grand Haven, Michigan recently was named Pittsburgh's co-Sportsman of the Year (along with Pens goalie Marc-Andre Fleury) at the Dapper Dan Sports Banquet. It's hard to think of anyone who's more deserving.
*Be sure to check out Rick's new book, "100 Things Penguins Fans Should Know and Do Before They Die" at TriumphBooks.com. It features 296 pages of bios, stories, anecdotes and photos from the team's colorful past in a compelling, easy-to-read style. Whether you're a die-hard booster from the days of Jean Pronovost or a big fan of Sid and Geno, this book is a must have for any true Penguins fan.
Don't forget to check out Rick's first book, "Total Penguins," at TriumphBooks.com. A complete and comprehensive book on the team's rich and storied history, it's filled with season-by-season summaries, player profiles and stats, bios on coaches, general managers and owners, photos from the "Post-Gazette" archives, and much, much more.
*Be sure to check out Rick Buker's books,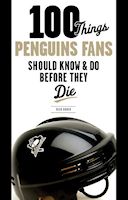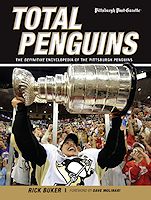 available at TriumphBooks.com, Amazon.com, and BarnesandNoble.com