When Penguins winger Matt Cooke received his team's Masterton Trophy nomination last Saturday, it provided a well-deserved moment of vindication. Indeed, few players in the annals of hockey history have undergone a more dramatic transformation than the former Public Enemy No. 1.
"I'm honored," he told Josh Yohe of the Pittsburgh Tribune-Review. "I'm thankful that I've had the support I've had from my teammates, the coaching staff, management, ownership, the fans, and my family, first and foremost. The help, and patience, and commitment to me have helped."
The seeds for Cooke's remarkable turnaround were sown on March 20, 2011. During the third period of a 5-2 loss to the Rangers the hyper-aggressive winger hammered Ryan McDonagh with a blatant elbow. Weeks earlier he'd been suspended for four games, courtesy of an ugly hit from behind on the Blue Jackets' Fedor Tyutin.
Noting that Cooke was a chronic repeat offender with a string of dangerous hits on his resume, the NHL cracked down hard. The following day the league suspended the Belleville, Ontario native for the final 10 games of the regular season and the first round of the playoffs. It was one of the stiffest suspensions ever levied against a player.
Even his boss, Ray Shero, felt the punishment fit the crime.
"The suspension is warranted because that's exactly the kind of hit we're trying to get out of the game," the Pens GM said. "Head shots have no place in hockey."
Much to Cooke's credit, he took the suspension to heart.
"I realize and understand, more so now than ever, that I need to change," he said. "I'm fortunate that Ryan McDonagh wasn't hurt. I don't want to hurt anybody. That's not my intention."
Cooke spent countless hours watching videotapes of his hits and counseling with others in order to revamp his borderline style. Entering the 2011-12 season it was obvious the ex-Peck's Bad Boy was a changed man. During the second game of the season he absorbed a brutal head-high hit from Calgary's Cory Sarich and refused to retaliate.
Perhaps he was a bit too changed. Following a solid start (five goals and 10 points in 17 games) "Cookie" fell into a deep funk. During a particularly dismal stretch in December and January he went a dozen games without registering a point and 19 games without a goal. Worse yet, he displayed little of his customary passion.
"He still has to have that physical element, finishing checks, figuring out [how] he can do it in a way that's going to help us," Pens assistant Tony Granato said. "I think he's in that process right now, because he certainly hasn't put himself in a position where he has been over-physical. Now, it's finding a happy medium, where he can still be physical, still have that part of his game."
Like an on-ice chemist trying to find the right mix, the 33 year old continued to tinker with the elements of his game. Cooke finally hit on the winning formula on January 13 when he set up the game-opening goal in a 4-1 win over Florida to help the Pens snap a six-game losing streak.
Since then the scrappy winger's been on a tear. Teamed with Sidney Crosby and Tyler Kennedy on the new "third line" Cooke recently struck for consecutive two-goal games. Over the last 30 games he's racked up nine goals and 20 points—a 55-point pace for a full season. Best of all, he's regained some of his old aggression and fire without straying over the line.
"It's an ongoing process with me," he said. "It's never going to be over with."
*Be sure to check out Rick's new book, "100 Things Penguins Fans Should Know and Do Before They Die" at TriumphBooks.com. It features 296 pages of bios, stories, anecdotes and photos from the team's colorful past in a compelling, easy-to-read style. Whether you're a die-hard booster from the days of Jean Pronovost or a big fan of Sid and Geno, this book is a must have for any true Penguins fan.
Don't forget to check out Rick's first book, "Total Penguins," at TriumphBooks.com. A complete and comprehensive book on the team's rich and storied history, it's filled with season-by-season summaries, player profiles and stats, bios on coaches, general managers and owners, photos from the "Post-Gazette" archives, and much, much more.
*Be sure to check out Rick Buker's books,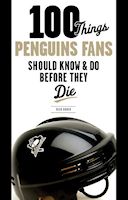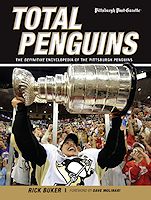 available at TriumphBooks.com, Amazon.com, and BarnesandNoble.com