In the wake of the Penguins' recent loss to the Flyers, I was struck by the pronounced difference in the makeup of the teams. While the Pens' lineup was generously stocked with 30-somethings (nine to be exact), Philly featured a bevy of talented young forwards who are in their early twenties, including NHL scoring leader Claude Giroux, Sean Couturier, Matt Read, James van Riemsdyk, Wayne Simmonds, and Jakub Voracek. I'm not even counting fresh-faced role players like Zac Rinaldo and Harry Zolnierczyk.
I hate to covet anything Philadelphia, but I couldn't help but be envious. Thanks to some astute drafting and personnel decisions by general manager Paul Holmgren, the Flyers' future looks bright. Philly is positioned at roughly the same spot on the development curve that the Penguins were back in 2006-07.
Of course, the Pens aren't totally bereft of young talent, either. Any team would die to have a core comprised of Sidney Crosby, Marc-Andre Fleury, Kris Letang, Evgeni Malkin, James Neal, and Jordan Staal.
Still, a key ingredient appears to be missing from this season's mix. The team lacks the youthful enthusiasm—the spark—that only hungry young players can provide. One doesn't have to dig very deep into their memory banks to recall the joy and passion displayed by Colby Armstrong and Max Talbot when they first arrived on the scene.
Trouble is, the Pens aren't likely to receive an influx of young talent any time soon. Due to injury or other issues, the club's top forward prospects—Dustin Jeffrey and Eric Tangradi—have been slow to develop. While the situation is considerably brighter on defense with blue-chippers such as Simon Despres and Joe Morrow in the pipeline, defensemen generally take longer to establish themselves at the big-league level.
If you're Penguins general manager Ray Shero there's another issue, and it's a prickly one. Do you continue to fortify the team with veteran talent in hopes of getting another shot at the Cup? Or do you commit to youth?
Former Pens GM Craig Patrick faced a similar dilemma during the 1990s. He chose option one, acquiring established stars such as Petr Nedved, Luc Robitaille, and Tomas Sandstrom while fleshing out the roster with experienced role players like Mike Hudson. His moves kept the Pens competitive throughout the decade, but fostered a shortfall in player development that contributed mightily to the team's collapse in the early 2000s.
Thus far, Shero appears to be following Patrick's lead. Each of his key off-season pickups—Richard Park, Steve Sullivan, and Jason Williams—are in their thirties. Craig Adams (34) and Arron Asham (33) were inked to new deals, while comparative youngsters Talbot and Nick Johnson left town.
Although the inclination to go with established performers is understandable, Shero can't overlook the importance of keeping youth in the mix. If he does, he could suffer the same fate as his Hall-of-Fame predecessor.
Fortunately for Penguins fans, that seems unlikely. Shero has a strong track record in drafting and player development dating back to his days with Ottawa and Nashville. While the Pens haven't reaped the benefits of his drafts to date, it's only a matter of time before prospects like Despres and Morrow crack the lineup on a full-time basis.
*Be sure to check out Rick's new book, "100 Things Penguins Fans Should Know and Do Before They Die" at TriumphBooks.com. It features 296 pages of bios, stories, anecdotes and photos from the team's colorful past in a compelling, easy-to-read style. Whether you're a die-hard booster from the days of Jean Pronovost or a big fan of Sid and Geno, this book is a must have for any true Penguins fan.
Don't forget to check out Rick's first book, "Total Penguins," at TriumphBooks.com. A complete and comprehensive book on the team's rich and storied history, it's filled with season-by-season summaries, player profiles and stats, bios on coaches, general managers and owners, photos from the "Post-Gazette" archives, and much, much more.
*Be sure to check out Rick Buker's books,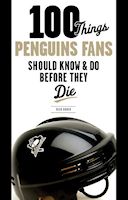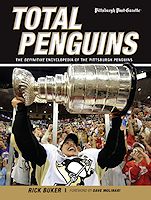 available at TriumphBooks.com, Amazon.com, and BarnesandNoble.com