I'll never forget the day (Feb. 26, 2008 to be exact) when the Penguins acquired Marian Hossa and Pascal Dupuis from Atlanta at the trade deadline for Colby Armstrong, Erik Christensen, Angelo Esposito, and a draft pick. A friend asked me what I thought of the trade. Being a huge Armstrong fan, I frowned and said, "I don't like it." (I'm not sure what I was smoking.)
Four years later it looks like a great trade even without Hossa in the mix. That's all due to the super play of Dupuis.
On a team that's chockfull of feel-good stories, Dupuis tops the list. A diligent two-way player who gives 110 percent each and every shift, the speedy winger has emerged at age 32 as a bona fide scoring threat. Factor in his durability, ultra-reliable defensive play, penalty-killing prowess, and team-first attitude, he's become one heck of a hockey player.
Not that scoring goals is totally foreign territory for the Laval, Quebec native. After all, Dupuis notched 20 goals in 2002-03 for Minnesota. He's averaged nearly 17 goals a season since joining the black and gold. And he's always possessed a bomb of a shot.
The difference seems to be in his hands (once described as "flinty" by Sports Illustrated writer Michael Farber). In years' past Pascal tended to handle the puck like a puppet on electroshock. His passes were uniformly hard—like his slap shot—and he often was guilty of carving up the rubber like a Benihana chef filleting a fish. A hockey buddy coined a rather uncomplimentary phrase for these unsightly spasms—"Dupuizures."
I don't know if Pascal's been eating the same oatmeal as Sidney Crosby, but those days are long gone. Thanks to his vastly improved stickhandling "Duper" has scored some beautiful goals this season—perhaps none finer than the one he netted against Boston last weekend. For those with short memories, No. 9 poked the puck away from Milan Lucic at the Pens' blue line, flew into the Bruins' zone at warp speed and beat Marty Turco with a forehand to backhand move that can only be described as breathtaking. Next to Evgeni Malkin's Mario-esque end-to-end tally against Tampa Bay, it arguably was the prettiest goal scored by a Penguin all season long.
Dupuis's heroics aren't confined to an isolated goal or play. On the contrary, the 6-1, 205-pounder's been on a tear of late. He's been a major contributor during the Pens' current 11-game winning streak, piling up seven goals (including two game winners) and 11 points to go with a sparkling plus-7.
It couldn't happen to a nicer guy. By all accounts Dupuis is a wonderful person and a better teammate. A Penguin through and through, he even sports a tattoo on his back from the 2009 Cup run featuring the team's logo overlaid on an image of Lord Stanley's chalice. With Pascal playing at such a lofty level, chances are good he'll get to add more ink this spring.
*Be sure to check out Rick's new book, "100 Things Penguins Fans Should Know and Do Before They Die" at TriumphBooks.com. It features 296 pages of bios, stories, anecdotes and photos from the team's colorful past in a compelling, easy-to-read style. Whether you're a die-hard booster from the days of Jean Pronovost or a big fan of Sid and Geno, this book is a must have for any true Penguins fan.
Don't forget to check out Rick's first book, "Total Penguins," at TriumphBooks.com. A complete and comprehensive book on the team's rich and storied history, it's filled with season-by-season summaries, player profiles and stats, bios on coaches, general managers and owners, photos from the "Post-Gazette" archives, and much, much more.
*Be sure to check out Rick Buker's books,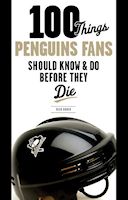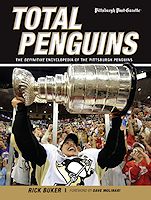 available at TriumphBooks.com, Amazon.com, and BarnesandNoble.com