Lately, the CONSOL Energy Center faithful have taken to chanting "MVP" whenever Penguins superstar Evgeni Malkin torches an opposing goalie with one of his patented highlight-reel goals. There's no denying that Malkin's enjoyed an extraordinary season (95 points and counting) or that the super Russian's the odds-on favorite to capture the Hart Memorial Trophy. "Geno's" truly been magnificent.
Yet here in the land where "Malkimania" rules there's another player who merits serious consideration for the NHL's highest individual honor. In fact, if you go strictly by the definition of the award—"the player adjudged most valuable to his team"—he may even be the most deserving.
You won't find Marc-Andre Fleury's name listed among the league leaders in goals against average, save percentage or shutouts. Given the Pens' offense-first style of play, you probably never will. But like a stripped down '60s muscle car with a 482 V8 engine under the hood, "Flower's" got it where it counts.
The willowy native of Sorel, Quebec is currently tied with Nashville's Pekka Rinne for the league lead with 40 wins. Over the past four seasons only Calgary Flames iron man Miikka Kiprusoff has more victories to his credit.
Fleury's value to his team never has been greater. One only needs to consider the erratic play of backups Brent Johnson and Brad Thiessen (a combined .873 save percentage) to realize how much No. 29 means to the Penguins.
"He's been outstanding," Steve Sullivan said following a recent victory over the Predators. "He's a star. Tonight is a prime example. It looks like an easy game, but there were prime scoring chances that he denied. He is a star every night."
At the age of 27, Fleury has overcome the bouts of inconsistency that plagued him earlier in his career while adding a heightened level of maturity and focus to his game.
"Every night, it's a different game," he said. "You feel different. Your head feels different sometimes. You've got to be able to find ways to be constant. I think that was something that was harder when I came in [the NHL]."
"People forget how young he still is," Brooks Orpik added. "He came into the league at 18. You've seen some brilliance in the past. But he's shown so much consistency now."
Not coincidentally, Fleury's finally receiving some long overdue recognition. Last season he was named the Penguins' MVP. He became only the second goalie in franchise history (Michel Dion was the first) to play in an NHL All-Star Game. On March 12 he was honored as co-Sportsman of the Year along with Pens coach Dan Bylsma at the prestigious Dapper Dan Banquet.
So are co-Hart Trophy winners out of the question? While it's highly unlikely that two players from the same team ever will be nominated, Fleury most certainly is worthy of consideration.
*Be sure to check out Rick's new book, "100 Things Penguins Fans Should Know and Do Before They Die" at TriumphBooks.com. It features 296 pages of bios, stories, anecdotes and photos from the team's colorful past in a compelling, easy-to-read style. Whether you're a die-hard booster from the days of Jean Pronovost or a big fan of Sid and Geno, this book is a must have for any true Penguins fan.
Don't forget to check out Rick's first book, "Total Penguins," at TriumphBooks.com. A complete and comprehensive book on the team's rich and storied history, it's filled with season-by-season summaries, player profiles and stats, bios on coaches, general managers and owners, photos from the "Post-Gazette" archives, and much, much more.
*Be sure to check out Rick Buker's books,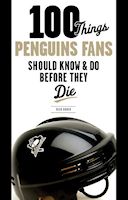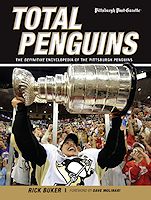 available at TriumphBooks.com, Amazon.com, and BarnesandNoble.com