The recently departed Joe Frazier was one of the greatest heavyweight boxing champions of all-time. Known as Smokin' Joe for his relentless attacking style, Philadelphia's favorite adopted son was a fighter of limited skills but enormous heart. Blessed with a granite chin, the squat and powerful Frazier would absorb an opponent's best punches without so much as blinking in order to deliver his slaughterhouse left hook. More often than not his unfortunate foe wound up on the canvas, separated from his senses.
It occurred to me that the Flyers are an awful lot like Smokin' Joe. They aren't nearly as pretty as the Pens (no current Art Ross Trophy winners). But, man, are they mentally tough. Hit 'em with your best shot—like the Pens did when they raced to a 3-0 lead in Game 1—and the Flyers shrug it off and keep on comin.' Like Frazier, they possess the collective heart of a lion.
The Penguins have to be concerned.
"Obviously, we're not playing the way we need to play for long enough," forward Craig Adams said. "We need to keep playing in their end. We can't sit back. We're not trying to sit back. We need to keep the pressure on them and keep generating chances and try to score more goals. We have to stay on the fore check and put pucks in their end. We didn't do that enough."
As for my boxing analogy, it took two of the best—Muhammad Ali and George Foreman—to beat Frazier. Foreman did it with sledgehammer punching. Ali accomplished the feat through ring generalship, guile, and sheer guts.
"Closest thing to dying that I know of," an exhausted Ali proclaimed following his epic win over Frazier in the "Thrilla in Manila."
It's going to require a similar dose of courage, commitment, and heart for the Penguins to beat these Flyers. Easy won't cut it. Neither will an occasional 20 minutes of excellent hockey. On the contrary, they have to be willing to slug it out with a difficult foe for a full 15 rounds and absorb punishment along the way. Then and only then will they be worthy of pursuing hockey's ultimate crown.
*Be sure to check out Rick's new book, "100 Things Penguins Fans Should Know and Do Before They Die" at TriumphBooks.com. It features 296 pages of bios, stories, anecdotes and photos from the team's colorful past in a compelling, easy-to-read style. Whether you're a die-hard booster from the days of Jean Pronovost or a big fan of Sid and Geno, this book is a must have for any true Penguins fan.
Don't forget to check out Rick's first book, "Total Penguins," at TriumphBooks.com. A complete and comprehensive book on the team's rich and storied history, it's filled with season-by-season summaries, player profiles and stats, bios on coaches, general managers and owners, photos from the "Post-Gazette" archives, and much, much more.
*Be sure to check out Rick Buker's books,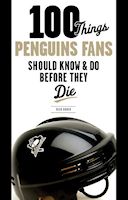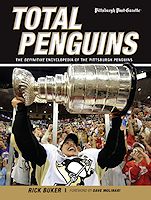 available at TriumphBooks.com, Amazon.com, and BarnesandNoble.com