In nature everything runs in cycles. Seasons change from winter to spring to summer to fall, and back again. The same holds true in sports. Championship teams are cultivated and nurtured through a combination of drafts, trades and free-agent signings until they peak. Then they gradually diminish until they enter a rebuilding phase.
Only three years removed from their thrilling Stanley Cup victory in 2009, the Penguins have entered a post-championship funk eerily similar to the one they experienced in the early-to-mid 1990s.
Following their second Cup in 1992 the black and gold looked like a dynasty-in-the-making. Indeed, with a lineup packed with future Hall-of-Famers such as Mario Lemieux, Ron Francis, Joe Mullen, and Larry Murphy—not to mention 50-goal man Kevin Stevens and rising star Jaromir Jagr—the Pens seemed a lock to win another Cup or two.
The dynasty never happened. In 1993 the plucky New York Islanders dethroned the defending champs—arguably the finest team in franchise history. Favored by many to regain the Cup, the Pens endured early playoff exits the next two seasons.
Fast forward to 2009. After sipping champagne from Lord Stanley's chalice, Pens winger Bill Guerin noted, "This team is set up for a great future. These guys are all in their early twenties."
Three disappointing postseasons later the Penguins again find themselves in search of answers. Despite a gifted core that includes two of hockey's brightest supernovas—Sidney Crosby and Evgeni Malkin—the club has won just one playoff series since capturing the Cup.
On paper the Pens look like a potential juggernaut, much like those teams from the early '90s. Mainstays Malkin and Jordan Staal enjoyed career seasons, as did Pascal Dupuis, Chris Kunitz, and James Neal. Kris Letang has the makings of a future Norris Trophy winner. Crosby seems fully recovered from the concussion issues that plagued him the past two seasons.
Still, something is missing. Perhaps it's hunger. Hunger fuels the burning desire so necessary to winning championships. The Pens were plenty hungry when they won the Cup in 2009. They appeared to be anything but while sleepwalking through a do-or-die Game 6 against the Flyers.
Leadership may be an issue, too. The '09 squad had veterans like Guerin and Sergei Gonchar on hand to keep the kids focused and on course. As the Pens' season slipped away it seemed that no one was taking charge on the bench.
Former GM Craig Patrick faced similar issues back in 1995. Following a ragged second-round loss to New Jersey, he cleaned house. In a series of stunning trades Patrick dealt Murphy, Stevens, Shawn McEachern, Luc Robitaille, and Ulf Samuelsson. Big name free-agents Mullen, John Cullen, and Kjell Samuelsson were handed their walking papers. Buoyed by newcomers Petr Nedved, Sergei Zubov, Bryan Smolinski, and Glen Murray, the Pens narrowly missed a return to the Stanley Cup Finals in 1996.
It's hard to imagine current general manager Ray Shero following Patrick's bold lead. Given his patient approach, Shero's more likely to plug gaps from within the organization and spot-weld with a free agent or two, much as he's always done.
Still, a big trade isn't out of the question. While the Pens are well stocked with defensive prospects like blue-chippers Simon Despres and Joe Morrow, the cupboard is decidedly bare up front. This could lead to a high-risk, high-reward deal—possibly involving one of our marquee players—for draft picks or forward prospects.
One thing is certain. The seasons are a changin.' It'll be interesting to see how Shero responds.
*Be sure to check out Rick Buker's books,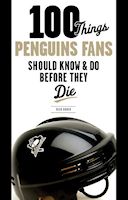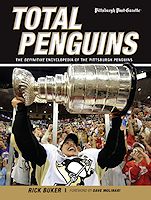 available at TriumphBooks.com, Amazon.com, and BarnesandNoble.com