Back in 1963 Avis was determined to pry rent-a-car sales away from its giant rival Hertz. So president Robert C. Townsend devised a catchy new slogan to highlight his company's underdog status—"We're Only No. 2. We Try Harder."
Penguins superstar Evgeni Malkin can relate. The gifted center has spent virtually his entire career skating in the shadow of hockey's most formidable talents. During his formative years in Russia, Malkin played second banana to larger-than-life countryman Alexander Ovechkin. Since joining the Penguins he's shared the spotlight with Sidney Crosby, arguably the game's finest and most revered player.
Like Avis some five decades earlier, Malkin tried harder. And on a steamy Wednesday evening in Las Vegas, "Geno's" supreme efforts were duly rewarded at the NHL Awards Banquet. In a feat equaled only by Crosby, Mario Lemieux, and a handful of other luminaries, the modest Russian made a clean sweep of the NHL's three major awards—the Hart Trophy (MVP), the Art Ross Trophy (scoring), and the Ted Lindsay Award (NHLPA MVP). For good measure, No. 71 landed his third First NHL All-Star Team berth—two more than "Super Sid."
It was a night of richly deserved recognition for Malkin, who worked long hours with Penguins strength and conditioning coach Mike Kadar during the summer of 2011 to rebound from major knee surgery. The result was a monster season—including team highs of 50 goals and 59 assists to go with his league-leading 109 points.
"I never even thought I'd be in the NHL, growing up in Russia," Malkin said. "I can't believe I'm sitting here with three trophies. It's the best day of my life."
Geno graciously credited former teammate Sergei Gonchar for helping him through the difficult early stages of his career, when he defected from his homeland at the callow age of 20 to join the Penguins. Gonchar invited the young prodigy to live in his suburban Pittsburgh home and served as both a mentor and translator.
"I remember six years ago, when I came here, it was a different life," Geno recalled. "I didn't speak English. He [Gonchar] took care of me. He's a great guy and an unbelievable player. He's my best friend here."
It's safe to say that Malkin has abandoned his traditional role of second fiddle for keeps. Indeed, the cache of silverware confirmed his emergence as hockey's most dynamic player.
"His teammates and the other players in the league repeatedly said things about how dominant and how special, [how] awesome some of the things he was doing on the ice were," Penguins coach Dan Bylsma said. "How he was taking over games, how he was playing almost an unstoppable type of game."
Entering the final year of his contract, Malkin clearly wants to remain a Penguin. However, financial constraints and the looming CBA may make it difficult for GM Ray Shero to ink him to a new deal.
"I love being with Sid and all our guys, but I hope this isn't my last," Malkin said. "I want to be the best player the next 10 years."
*Be sure to check out Rick's new book, "100 Things Penguins Fans Should Know and Do Before They Die" at TriumphBooks.com. It features 296 pages of bios, stories, anecdotes and photos from the team's colorful past in a compelling, easy-to-read style. Whether you're a die-hard booster from the days of Jean Pronovost or a big fan of Sid and Geno, this book is a must have for any true Penguins fan.
Don't forget to check out Rick's first book, "Total Penguins," at TriumphBooks.com. A complete and comprehensive book on the team's rich and storied history, it's filled with season-by-season summaries, player profiles and stats, bios on coaches, general managers and owners, photos from the "Post-Gazette" archives, and much, much more.
*Be sure to check out Rick Buker's books,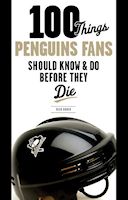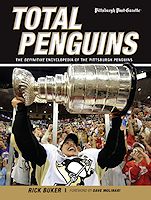 available at TriumphBooks.com, Amazon.com, and BarnesandNoble.com