In the wake of the Penguins-Flyers game-ending brawl on Sunday—which featured a heated verbal exchange between Philly coach Peter Laviolette and black-and-gold assistant Tony Granato—NBC Hockey analyst Mike Milbury criticized Pens skipper Dan Bylsma for not getting involved.
"I thought Dan Bylsma should have taken off his skirt and gone over there," Milbury huffed.
Bylsma's response was an all-time classic.
"I wasn't wearing a skirt," he wryly noted. "It was a blue suit."
*Be sure to check out Rick's new book, "100 Things Penguins Fans Should Know and Do Before They Die" at TriumphBooks.com. It features 296 pages of bios, stories, anecdotes and photos from the team's colorful past in a compelling, easy-to-read style. Whether you're a die-hard booster from the days of Jean Pronovost or a big fan of Sid and Geno, this book is a must have for any true Penguins fan.
Don't forget to check out Rick's first book, "Total Penguins," at TriumphBooks.com. A complete and comprehensive book on the team's rich and storied history, it's filled with season-by-season summaries, player profiles and stats, bios on coaches, general managers and owners, photos from the "Post-Gazette" archives, and much, much more.
*Be sure to check out Rick Buker's books,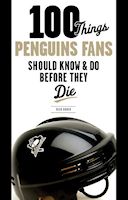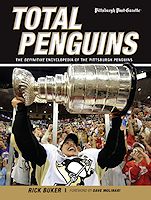 available at TriumphBooks.com, Amazon.com, and BarnesandNoble.com