We have a saying here at PenguinPoop that "We have more hockey knowledge in our body than you have in your entire pinky", that just being a little humor and all, the "body" of people writing here at PenguinPoop have probably been to more Penguins games than any other collection of Pittsburgh Penguins' writers on the internet.  Two of us have been season ticket holders for over 35 years, 4 more of us season ticket holders have been following the Pens since B.L. (Before Lemieux) and another of us even wrote the books on the Penguins…  literally – check out   "Total Penguins."  and  "100 Things Penguins Fans Should Know and Do Before They Die"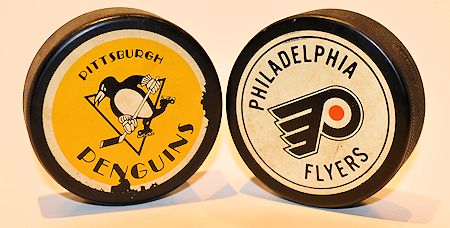 Yes, you can call us homers, most if not all of us would take that as a compliment.  You are on a Pittsburgh Penguins hockey site after all.  Keep in mind though that one of us not only predicted that Tampa Bay would beat the Penguins in 7 last year.  They also predicted before the playoffs started that Boston would beat Vancouver and win the Cup.
Kicking off our predictions is STH35 who has been a Pittsburgh Penguins season ticket holder for 38 years! 

 Horse The Pens will win this series in six because my heart won't be able to take a seventh game.  It would be almost as much fun for me to see the Flyer fans watch their team lose in the sixth as it would be for me to watch the Pens win in seven at Consol. Now to the why of the Pens winning in six.  It hurts to say this, but the Flyers have plenty of good young talent.  The series will be very difficult to win.  The Pens also have a very talented team.  Their edge in Cup experience will be a determining factor.  So will —
*Bylsma will keep the Pens on the even emotional keel that is necessary to win a series of this nature.
*The more the game is played five on five, the better the Pens' chance of winning.
*If Fleury equals Bryzgalov's performance the Pens have the star power to win the series.

Rick Buker They don't call the Penguins-Flyers rivalry the "Battle of Pennsylvania" for nothin'. The bitter adversaries flat-out HATE each other. All that venom should make for an incendiary first-round series—one worthy of a Stanley Cup Finals tilt.
Boasting luminaries such as Art Ross winner Evgeni Malkin, Sidney Crosby, James Neal, and Kris Letang, the Pens possess incredible firepower. Sprinkle in secondary scorers like Chris Kunitz, Jordan Staal, Pascal Dupuis, and crafty Steve Sullivan along with a bevy of gritty role players and you have a juggernaut that few foes can handle.
But these aren't your father's Flyers. Thanks to the astute moves of GM Paul Holmgren the former "Broad Street Bullies" swapped their brass knuckles for a heaping helping of skill. Loaded with talented forwards such as Claude Giroux, Scott Hartnell, Jaromir Jagr, and Daniel Briere—not to mention rising stars Wayne Simmonds, Matt Read, and Jakub Voracek—the Flyers are capable of beating the black and gold at their own game. Plus, they're cocky and fearless, and play with an all-too-annoying edge.
Philly's Achilles' heel is between the pipes. While Ilya Bryzgalov improved dramatically during the second half, he's recovering from a foot injury. Sergei Bobrovsky has shown flashes but lacks consistency. Neither can match the Pens' Marc-Andre Fleury when he's on his game.
So who'll win? If the Penguins stick with a north-south style, pay close attention to their defensive chores, solve their power-play riddle (no five-forward units, please), and avoid injuries they should win in seven. However, if they get too fancy—or if Fleury falters—look for Philly to pull an upset.

Southside Shultzie  As I wrote in my recent award winning article I suggested Three Reasons the Penguins Should Sweep the Flyers.  The bullet points suggested that the Penguins superior conditioning would outlast the Flyers.  The Flyers lack of discipline would allow the Pens twice as many power play opportunities.  And lastly the Penguins league leading firepower will be too much for an injured Bryzgalov to handle.  The Flyers are placing all of their eggs in Bryzgalov's basket but rumour has it that the chip fracture in his foot is so painful that he was reportedly seen hobbling around the Flyers locker room.  Even a healthy Bryz would have a hard time facing the (knock on wood) healthy Penguins.  Also if Fleury continues to sparkle making more stops than the 54C, this round could turn into more of a cakewalk for the Penguins than anyone is expecting.
I've got to stick to my guns and call the Pens in 4.

Doug MacRay  Even though the Penguins are 4-7-1 versus Philly in the last two years, they have won the last two meetings in the playoffs.  The Penguins won 4-2 in 2008-09 and 4-1 in 2007-08. Both series they had had home ice.  They also have home ice this time. I think the Penguins are the more talented team. They are also a better rounded team than Philly. In order to win this series, the Penguins will need to make sure they play better defense and continue to kill penalties well. I think this series will be easier than it looks on paper.  The Penguins will win in 6.
Champ Kind – Pens in 5.  They are just too deep throughout the lineup for the Flyers to handle. If you start matching up position by position the Pens have a more talented player at pretty much every spot in the lineup.
Coach Bombay  Saturday, the Pens showed that they can outplay the Flyers.  This we already knew.  The also broke another of the damn Consol Curses by beating the Flyers in the new barn.  This actually had me worried, that freakin' place has nothing but trouble since day one and as your stereotypical superstitious hockey fan, I'm glad that streak has been broken.
Talent-wise, the Pens have this.  Put aside the two whining, dirtiest players in the league, Crosby and Malkin, and look at the guys that have been putting up big numbers this year.  Neal, Staal, Kunitz, Dupuis, etc.  It felt like every goal on Sunday was a milestone or career high for someone.  Hell, Matt Cooke scored as many goals as that Czech guy who plays for the Flyers, the one who returned to the NHL from the KHL this season.  We've gotten consistent secondary scoring all season and that will be key.  It's hard enough to keep up with two number one lines, but when you can roll four lines that can all put the puck in, you're going to be tough to beat.  Our defense hasn't been as strong as it needs to be.  Bad decision-making and positioning have been costly at time.  Luckily, our defense knows how to play in lock down mode, they just need to do it.  Fortunately, behind the defense, Fleury has had a lights out season, further establishing himself as one of the league's best.  Though he's had some weak games lately, we all know that Fleury turns it on for big game and is a playoff veteran by now.
I'm not going to take the time to run through the Flyers roster, we all know who they have and what player can do what.  It's going to be a physical series, both teams were credited with the exact same number of hits this season.  The key for the Pens is to stay disciplined and not take stupid penalties.  Both teams' Power Plays ended up with the same numbers as well.  We all know that the Flyers will goon it up if they go up or down by a few, the Pens need to play their game.  And by play their game, I mean for a full 60 minutes.  Too many times this season we've seen 20 minutes of effort let games slip away.  As always during the playoffs, special teams will be key.  Hopefully, Bylsma stops his PP experiment and rights that ship and our PK keeps kicking ass.  Also important, throw as many pucks on net as possible.  No pretty passing and highlight reel goals.  Go for the garbage goals, use Sid and Geno as decoys if necessary.  The Flyers have struggled with both of their goalies, the Pens need to capitalize on this.    Pens in 6.

Art Vandelay Penguins in 6 over the Flyers.   Here's why. Pen's win two of three of the first three games. Losing one because their emotions get the best of them, which play right into the Flyers hands. Losing another because the Flyers give it their all to avoid elimination.

Ginger  The playoffs are just starting?  Sure seems like they started a week ago.  While the race to the top kept the last couple of weeks interesting and certainly provided goals and a focus, it all comes down to what the hockey gods had planned all along…the battle of PA, Commonwealth Cold War, Good Guys (entitled organization) vs Bad Guys (Broad Street Bullies). Typical of many hockey fans, I am just a little bit superstitious -yikes my tickets are for Friday the 13th!  so I am hesitant to predict the outcome of this first round showdown. Not to mention the harassment from obnoxious Flyer (is that redundant) friends.  As Scott Hartnell has said, "It's going to be a bloodbath."  If it is, it's in his favor.  Blood red blends in with their orange and so is just part of their uniform and game plan.
Anything can happen in the Stanley Cup Playoffs.  That's what makes them so special.  The teams are close in many year-end stats.  The keys are composure, experience, and injuries.  The Pens need to continue to let the opponents do the yapping and bullying.  If the Pens can let their talents speak for themselves, they will win as most have predicted.  Hopefully past games against the Flyers this season have taught the Pens a lesson.  The Pens have the experienced team.  The Flyers will be a team of contention in the future.  Although they have a few strong, experienced leaders, I don't think it is enough. Especially when it comes to the goaltender or should I say goaltenders for the Flyers.  If their history dictates anything, they already have a goaltending controversy.  And I'm not referring to the oddity that is Bryzgalov.
Fingers crossed (I said I was superstitious) that there aren't major injuries.  The Penguins have adapted and have adjusted to too many in the past and it would be a nice change of pace to have our dream team last more than one series.  Yeah – said it out loud – another series…guess that means I believe the Pens will prevail.  Can't be easy, never is when it comes to this rivalry.  Max and Jagr have had their day.  Pens take it, but can't see it ending quickly.  My nerves will be tortured for a game 7. Though I wouldn't complain if I didn't have to use my Game 7 ticket.

Joey Wales Any time the Pens and Flyers play it is a brutal affair. Multiply that by seven, then double it again and you get the intensity of a playoff series between the two best hockey teams in PA! But this signature slugfest will work out in the Pens favor, and Asham and Dupuis demonstrated why with the first goal in yesterday's game: Pens play hard; Pens play smart; and Pens innovate while the Flyers just try to beat their opponent into submission. I know, "Claude Giroux is great… Top 3 scorer… Yadda Yadda Yadda (right Vandalay?)." I don't think the Flyers will be able to contain themselves enough in a prolonged series against the Pens to play smart hockey and will end up relying too much on their bullying persona to try to contain our fathoms-deep fire power. While they try to push the Pens–who are just as tough–around, Asham will do things like pass the puck from his belly to Duper who buries it. Flyers bully, Pens innovate and get the job done.
That is my number one reason why I think the Pens will win in 6. BUT my number one reason the Flyers could–just could, not will–win in seven is that the Pens are "supposed to" come out of this fight on top. Remember '93? Remember Tampa Bay bouncing the Pens just last season? The Pens were "supposed to" win those, too. One series, one game, one shift at a time. It all starts Wednesday

Disco Stu  In a complete 180 degree turnaround from last year's opening round series against Tampa Bay (Called in a 7 game loss by this intrepid reporter, I believe) where there was not only any playoff history between the two teams but no bad blood either, this year we get the war to end all wars.  While the NHL has to be happy that this is the top opening round series, you have to believe they would so much rather it be the Conference Finals.  There's no reason to go into the vitriolic history between these two franchises for if you follow hockey at all, you know there are very few rivalries that can match it.
This series is going to come down to one word, Depth.  The Penguins have it, and the Flyers do not.  The Penguins have five players with 50+ points and one more, Sidney Crosby, who had he played a full season, would have scored over 130 points at the pace he was on.  The Flyers can only boast three players with 50+ points, and one of those is Jaromir Jagr who at age 40 will continue to wear down as the series goes on.  While the Flyers may have some defensive pairings that can match up with the Penguins' first and possibly even second lines, they just don't have the depth to cover the third line which currently boasts 25 goal scorer, Jordan Staal and 19 goal scorer, Matt Cooke.
If I had to choose a second reason why the Penguins will take this series, it would have to be Goaltending.  Marc-Andre Fleury is one of the top three goalies in the NHL right now, and Ilya Bryzgalov isn't one of the top three goalies in his own division.  Fleury led the league in Wins this year, and has the playoff experience to carry the Penguins should they have trouble lighting the lamp on a given night.  Bryzgalov led the league in Flakeyness and has never experienced the pressure cooker atmosphere that he will see come Wednesday night at the CEC.  One or two soft goals get by him early, and he will fold like the proverbial cheap suit.   Penguins in 6

Phil Krundle Would this series make for a great Semi-final series?  Probably one of the best.  It also looks to be one of the best first round match-ups in recent history. Fortunately I don't see it playing out that way.
The Flyers are the perfect first round opponent to get the Penguins hearts in the playoffs right off the bat. There is really one main thing the Penguins need to do to win the series with the Flyers.  Clear the front of their own net.  If Fleury can see the shot, he stops it.
The Flyers are not anywhere near as intimidating as they were a few years ago.  They may be a slightly better coached team, but the intimidation factor is completely gone.  One of the Flyers big problems is their reliance on their star Claude Giroux.  If the Flyers go after any one of the Penguins many stars, Penguins will have free reign to go after their only star who just happens to be a 5ft 11 inch 172 pound easy target.
The x-factor is the Flyers goaltender Bryzgalov.  Which Bryzgalov shows up will be a big determining factor for whether the series is easy or hard fought.
The Penguins easily win on paper.  I would be hard pressed to find any part of the Flyers team whether defense, offense, coaching, heart or experience that out weighs what the Penguins have.  If the Penguins want to win they will win.  If the Penguins hearts are in this is you see them laying down in front of shots.  If you see them doing that, consider the series won.
I'm predicting that the Penguins win the series in 5 games.  I'm only predicting 5 because with Jagr only scoring 1 goal in his last sixteen games and looking completely worn out, it would only be fitting for him to retire in Pittsburgh.

Reg Dunlop The first thing that comes to mind for me is that the Flyers are no longer the tougher team.  So on top of the Pens having more scoring punch, deeper talent, the capability of a shutdown defense, a top 3 goaltender and any of the other things my contemporaries have talked about, we have more toughness.
And like Krundle said, this is the kind of matchup that will get the Pens hearts and heads into it very quickly.  I think the Pens will raise their level of play to a new high for these playoffs.  I think this team is hungry and willing to do whatever it takes to win.
I like the Pens in 5.