Entering Saturday night's contest with the Penguins at Scotiabank Place, the backpedaling Ottawa Senators had lost three straight, including an embarrassing 5-1 shellacking at the hands of Montreal on Friday. They were in desperate need of a win, not to mention some offense (nine goals in their past six games).
Remarkably, the high-flying Pens proved to be just the right tonic. With slumping snipers Daniel Alfredsson, Milan Michalek, and Jason Spezza springing to life, Ottawa torched backup Brad Thiessen for eight goals en route to a resounding victory.
In fairness to the rookie his teammates played it fast and loose, surrendering a ton of breakaways and odd-man opportunities to the home-standing Senators.
"There weren't a lot of pucks that he had a chance on that went in," Penguins coach Dan Bylsma noted.
However, Thiessen's struggles served to underscore the enormity of starter Marc-Andre Fleury's value to the locals—and how vulnerable they'd be if he was out for any length of time.
Contrary to the final score, the evening started out well for the Pens. Forty seconds after yielding a game-opening tally to Michalek at 9:06 of the first period, the black and gold knotted the score on a nifty goal off the rush by Matt Cooke. "Cookie" cashed in again at the 13-minute mark, knocking a sensational spin-o-rama feed from Sidney Crosby past Ottawa goalie Ben Bishop from the doorstep.
However, the Senators took control in the second period, pounding four pucks past the overmatched Thiessen. Ex-Pen Sergei Gonchar struck on the opening shift, jumping into the slot to drive home his fourth goal of the season. Chris Phillips and Kyle Turris scored a pair of rapid-fire goals 36 seconds apart to hand the Sens a 4-2 lead.
Flashing some quick-striking power of their own the Pens countered just 14 seconds later. Tyler Kennedy gathered in a pretty cross-ice pass from Steve Sullivan and snapped a bad-angle shot past Bishop at 7:55. But the crafty Alfredsson beat Thiessen high to the glove side on a shorthanded breakaway to restore the home team's two-goal lead.
The Northeastern grad made amends early in the third period with a nice poke check to thwart Zack Smith 1-on-1. As the boys from the 'Burgh gathered steam Arron Asham made a pretty pass off the end boards to Crosby, who scored from the slot at 11:43 to pull the Pens to within a goal. Two minutes later, however, Spezza sailed unmolested into the Pittsburgh zone and zipped the puck between Thiessen's pads to douse any hopes of a comeback. Alfredsson and Colin Greening tacked on late goals to hand the Pens their first regulation loss since February 19.
"You never want to lose but you also don't want to get away with the kind of mistakes that we made tonight," Crosby said afterward.
Ice Chips
Crosby's goal was his first since November 21 … Cooke recorded his fifth two-goal game of the season … Deryk Engelland and Kennedy were both plus-3 … Pascal Dupuis (an assist) has a nine-game points streak … Jordan Staal (an assist) has one goal in his last 13 games … Evgeni Malkin, Zbynek Michalek, and Brooks Orpik were minus-4 each … Geno's goal streak was snapped at five games … Pittsburgh out-shot Ottawa (40-28) … The Pens are 8-17-2 when trailing after two periods … Ben Lovejoy replaced Matt Niskanen (upper-body injury) … Eric Tangradi dressed in place of Richard Park … Dustin Jeffrey, Brent Johnson, Niskanen, Park, and Joe Vitale were scratches.
On Deck
The Penguins (46-22-6) return home for a rare Sunday night match with New Jersey (42-27-6) at CONSOL Energy Center. The Pens trail the Eastern Conference-leading Rangers by three points (101-98).
*Be sure to check out Rick's new book, "100 Things Penguins Fans Should Know and Do Before They Die" at TriumphBooks.com. It features 296 pages of bios, stories, anecdotes and photos from the team's colorful past in a compelling, easy-to-read style. Whether you're a die-hard booster from the days of Jean Pronovost or a big fan of Sid and Geno, this book is a must have for any true Penguins fan.
Don't forget to check out Rick's first book, "Total Penguins," at TriumphBooks.com. A complete and comprehensive book on the team's rich and storied history, it's filled with season-by-season summaries, player profiles and stats, bios on coaches, general managers and owners, photos from the "Post-Gazette" archives, and much, much more.
*Be sure to check out Rick Buker's books,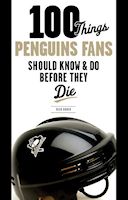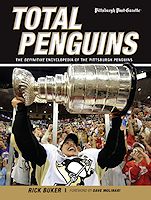 available at TriumphBooks.com, Amazon.com, and BarnesandNoble.com