Entering Tuesday night's contest with Ottawa at CONSOL Energy Center, the Pittsburgh Penguins were in desperate need of a win. After climbing to the top of the standings in the early weeks of the season, the injury-ravaged Pens suddenly found themselves clinging to the eighth and final playoff spot in the Eastern Conference courtesy of an unsightly four-game losing streak.
Beating the improving young Senators (5-0-1 in their last six) would be no easy feat. After all, the Pens entered the game with a lineup decimated by the recent loss of two-way stalwart  Jordan Staal (knee), not to mention the ongoing absences of Sidney Crosby and Kris Letang.
Prior to the opening faceoff the black and gold received some good news (a rarity these days) when it was revealed that leading goal-getter James Neal and gritty Craig Adams would suit up despite recent injuries. Unfortunately, it wasn't enough to prevent the Pens from belly flopping to their fifth-straight defeat.
Those in attendance saw an unfamiliar face stationed between the pipes to begin the game. Brent Johnson, who hadn't made an appearance since yielding five goals in a 6-4 loss to Ottawa on December 16, was given the starting nod in goal.
Much to the disappointment of the Penguins' faithful, "Johnny" fared no better this time around. After leaking for three goals in just over 21 minutes of work, he was yanked in favor of Marc-Andre Fleury. "Flower" promptly allowed a disputed tally to Milan Michalek, giving the Senators a commanding 4-0 lead.
Aside from a crunching open-ice check by Brooks Orpik on Sens toughie Chris Neil, Steel City fans had little to cheer about until the 11-minute mark of the second period. Evgeni Malkin picked off a clearing attempt by his former landlord, Sergei Gonchar, deftly stickhandled through two Ottawa defenders and wristed the puck past Craig Anderson on the short side.
Rejuvenated by their first goal in over four periods of play, the undermanned Pens doggedly pressed the attack. Six minutes into the final frame Malkin set up Neal breaking down the right side of the Ottawa zone. Unfortunately, the slumping sniper (no goals in five games) fired the puck wide of the net. Moments later Eric Tangradi unleashed a wicked shot from the slot, only to be denied by Anderson.
Michalek closed out the scoring at 12:36 when he gathered in a pretty pass from Colin Greening and beat Fleury for his second goal of the night (and 22nd of the season).
"A couple breakdowns and a couple miscues and we gave them goals, gave them easy goals," Pens coach Dan Bylsma noted. "When they score four goals on nine shots, there's some serious gaps on our part."
Ice Chips
Orpik registered a game-high 10 hits … Matt Cooke and Chris Kunitz paced the Pens with four shots apiece … The Penguins out-shot the Sens 30-23 … Arron Asham returned to the lineup after missing two games … Johnson allowed three goals on eight shots … Simon Despres was summoned from Wilkes-Barre to replace Paul Martin (flu) … Despres left with a lower-body injury after four shifts … Crosby, Dustin Jeffrey, Letang, Steve MacIntyre, Martin, Colin McDonald, and Staal were scratches.
On Deck
The Penguins (21-16-4) kick off a three-game road trip against the Southeast Division when they jet to Washington (21-17-2) to challenge the Capitals on Wednesday night. The Pens are 5-4-1 against the Southeast this season.
*Be sure to check out Rick's new book, "100 Things Penguins Fans Should Know and Do Before They Die" at TriumphBooks.com. It features 296 pages of bios, stories, anecdotes and photos from the team's colorful past in a compelling, easy-to-read style. Whether you're a die-hard booster from the days of Jean Pronovost or a big fan of Sid and Geno, this book is a must have for any true Penguins fan.
Don't forget to check out Rick's first book, "Total Penguins," at TriumphBooks.com. A complete and comprehensive book on the team's rich and storied history, it's filled with season-by-season summaries, player profiles and stats, bios on coaches, general managers and owners, photos from the "Post-Gazette" archives, and much, much more.
*Be sure to check out Rick Buker's books,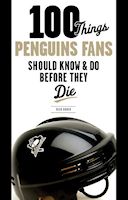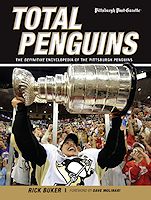 available at TriumphBooks.com, Amazon.com, and BarnesandNoble.com