I was mulling over the Penguins' huge division rivalry game versus the Rangers tonight at Madison Square Garden when a thought popped into my head. Actually, it was more of a question. Should the Pens recall enforcer Steve MacIntyre from Wilkes-Barre for this evening's contest?
It's no secret that John Tortorella's crew likes to play nasty. What's more, with a lineup packed with bruisers like Stu Bickel (6-4, 207), Brian Boyle (6-7, 244), Brandon Prust (142 PIM), John Scott (6-8, 258), and ex-Pen Mike Rupp (6-5, 230), the Rangers have more than enough muscle to back up their intimidating style.
No team plays harder—or has more "playing" toughness—than the Pens. Sunday's old-fashioned butt-whupping of Boston was a prime example. Indeed, the black and gold attacked the Bruins with such ferocity that it brought to mind a school of piranha carving up an unfortunate peccary that waded into the wrong Amazonian stream.
Still, I'd be lying if I said I wasn't concerned about the possibility of the aforementioned Rangers trying to make road kill of our guys and, in particular, Sidney Crosby. After all, boys will be boys. And while Arron Asham and Deryk Engelland are always ready, willing and able to answer the bell, I wonder if they'll be enough to discourage the Rangers.
If there ever was an occasion to call up MacIntyre and plug him into the lineup—front and center—this would be it. He's earned a reputation, deservedly so, for being one of the most feared heavyweights in hockey. However, given his limited skill set, there's a downside. If you dress "Big Mac," you sit a player (perhaps Eric Tangradi) who might make a big play or score a timely goal. Plus, you disrupt the chemistry on the fourth line, which has been downright terrific of late.
Of course, it could be a moot point since MacIntyre currently is serving a four-game suspension in the American Hockey League. But the NHL doesn't automatically observe AHL suspensions, so I thought I'd pose the question to our PenguinPoop readers. Should the Pens (try to) call up MacIntyre for tonight's game?
*Be sure to check out Rick's new book, "100 Things Penguins Fans Should Know and Do Before They Die" at TriumphBooks.com. It features 296 pages of bios, stories, anecdotes and photos from the team's colorful past in a compelling, easy-to-read style. Whether you're a die-hard booster from the days of Jean Pronovost or a big fan of Sid and Geno, this book is a must have for any true Penguins fan.
Don't forget to check out Rick's first book, "Total Penguins," at TriumphBooks.com. A complete and comprehensive book on the team's rich and storied history, it's filled with season-by-season summaries, player profiles and stats, bios on coaches, general managers and owners, photos from the "Post-Gazette" archives, and much, much more.
*Be sure to check out Rick Buker's books,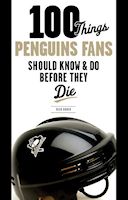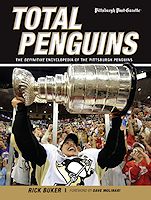 available at TriumphBooks.com, Amazon.com, and BarnesandNoble.com