If your the best hockey player on the planet the whole idea of re-imagining your game probably sounds like a poor idea at best.  If you are the best player on the planet who has been injured and only able to play a handful of games over the course of a year then maybe it's time to re-invent yourself.
Three games back from his 10 1/2 month concussion hiatus Sidney Crosby found himself in front of his own net defending his goaltender Marc Andre Fleury from Nick Foligno of the Ottawa Senators who just happened to collide "accidentally" with Fleury his second time during the game.
As admirable as Crosby's deeds were, in hockey there are two types of leaders.  There are the leaders that lead by example and the leaders that lead with words. Crosby has never shied away from leading by example but when it is time for him to return to the ice, he must learn to lead the team with words only.
In September of 1985 the Edmonton Oilers traded for Penguins draft pick and "enforcer" Marty McSorley to be  Wayne Gretzky's "body guard".  This situation worked out so well that it is reported that when Edmonton was trading Gretzky to the Los Angeles Kings in 1988, Gretzky demanded that McSorley be included in the package.
Sidney Crosby needs an "enforcer" and needs to accept an "enforcer".  This player must be willing to jump in and go after anyone who slashes, crosschecks or tries to pick a fight.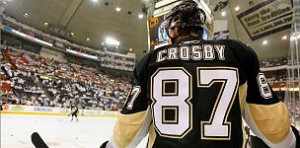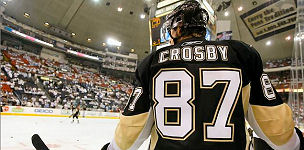 On December 1st, in Crosby's 6th game back this year, during the second period John Carlson of the Washington Capitals skated past Crosby who was looking elsewhere and shouldered him on purpose in between play.  This is something that should not be taken lightly by the other Penguins players.  As innocent as it looked, this was a player testing the waters.  If a player does that, he should be dealt with by force.
Finding an enforcer will be tough. This is a player that must come with a decent amount of hockey skill.  Penguins GM Ray Shero needs to start searching for a few bigger players who would accept this rule and Dan Bylsma must work them into his system.  While the Penguins current enforcer Steve MacIntyre does not fit that bill, there could be a guy currently on the Penguins squad right now who would be willing to temporarily accept the responsibility.
That would be Arron Asham.  Asham has shown that he is not afraid to mix it up and at the same time proved in the playoffs last year he has the ability to put the puck in the net.  Perhaps if asked, Asham would relish the role on Crosby's line and the chance to have goal totals up in the 40's like back in his WHL days.  The player could also come in the form of a defenseman. Deryk Engelland could also be given the role.  Marty McSorley played both offense and defense when playing along with Gretzky.
This role would not be only Asham's or Engelland's this is a role that many players on the team should accept.  This needs to be engraved in the players heads by the coaches and management.
A prime example would be Chris Kunitz who has been enjoying time on Evgeni Malkin's line.  Just like he jumped in the scrum involving Crosby in front of the net in the video above, the other night Kunitz jumped into a tussle in front of the net when an opposing player was trying to take Malkin to the penalty box with him.
Crosby already deals with the "Cindy" Crosby's and the rest of the name calling all over the internet that Gretzky never had to deal with.  That is not going to change no matter what Crosby does.  It is this simple…  If Sidney Crosby doesn't change and accept a different role he will end up fulfilling all of the stupid rumors circulating about him never playing hockey again.