Look … up in the sky. It's a bird. It's a plane. No, it's "Super Geno!"
Okay, maybe likening Penguins center Evgeni Malkin to Superman is a bit over the top. After all, he doesn't wear a cape and he can't exactly fly, although you might have a hard time convincing NHL goalies. However, there are a growing number of teams that wish they could find an on-ice version of Kryptonite to slow the big Russian down.
Take the Tampa Bay Lightning, for example. On Saturday afternoon at CONSOL Energy Center the Bolts were reduced to helpless bystanders as Malkin shredded their flickering playoff hopes with a soaring four-point performance.
Despite a recent fire sale that saw Steve Downie, Pavel Kubina, and Dominic Moore depart the Sunshine State, the Lightning opened the game playing spirited, determined hockey. But midway through the first period Malkin set up Chris Kunitz to stake the Pens to a 1-0 lead.
Before you could say "Clark Kent" the black and gold was up by a pair, thanks to a determined shift by the third line. After some gritty cycling down low, Joe Vitale reversed the puck up the boards to Zbynek Michalek, who leveled a chest-high blast at goalie Dwayne Roloson. Matt Cooke pounced on the rebound for his 12th goal of the season. Jordan Staal capped a three-goal outburst at 14:40 when he stole the puck from hulking Victor Hedman and beat Roloson through the five-hole on a shorthanded breakaway.
Refusing to go down quietly, the Lightning came at the Penguins hard in the second period. Fortunately Marc-Andre Fleury was at his show-stopping best, denying Teddy Purcell, Steven Stamkos, and Martin St. Louis with a series of sparkling saves.
"(Fleury) shouldn't be overlooked today," Pens coach Dan Bylsma said. "This game could have had a significantly different look if he didn't make four or five big saves."
While "Flower" was giving a pretty fair imitation of a brick wall Roloson decided to go on the offensive, flattening Malkin in front of his crease. It proved to be a big mistake. Following a nifty 4-on-3 goal by Staal at the 10-minute mark, "Geno" beat the Bolts' netminder at 16:03 with a wicked shot from an impossibly sharp angle.
After Purcell cashed in on a Lightning power play, Malkin took over in the third period. On a play that could only be described as Lemieux-esque, No. 71 picked up a short pass from Matt Niskanen and blew through the entire Tampa Bay team. After putting a final, dazzling move on defenseman Brett Clark, he ripped the puck past Roloson to run the score to 6-1.
"Just another great game by him," Staal said. "He's definitely a lot of fun to watch."
With the adoring crowd chanting "MVP," Malkin notched his ninth career hat trick at 13:42 when he deftly lifted Eric Brewer's stick and swatted home a James Neal rebound. Pascal Dupuis drove a final spike into the Bolts' coffin with his 14th goal.
Ice Chips
Malkin was voted No. 1 star … Geno opened up a four-point lead over Stamkos (77-73) in the NHL scoring race … Staal (two goals and an assist) was awarded No. 2 star … Jordan has 13 shorthanded goals in his career … Neal and Steve Sullivan (three assists each) and Kunitz (a goal and an assist) registered multiple-point games … Fleury (34 saves) was named No. 3 star … Tampa Bay out-shot Pittsburgh 35-34 … The Penguins won the season series 3-1 … The Pens (75 points) moved into second place in the Atlantic Division … Cal O'Reilly was sent to Wilkes-Barre … Sidney Crosby, Dustin Jeffrey, Brent Johnson, Tyler Kennedy, and Ben Lovejoy were scratches.
On Deck
The Penguins (35-21-5) return to the CONSOL Energy Center ice tomorrow afternoon to face woeful Columbus (18-36-7). Former Pens GM Craig Patrick is the Blue Jackets' senior advisor.
*Be sure to check out Rick's new book, "100 Things Penguins Fans Should Know and Do Before They Die" at TriumphBooks.com. It features 296 pages of bios, stories, anecdotes and photos from the team's colorful past in a compelling, easy-to-read style. Whether you're a die-hard booster from the days of Jean Pronovost or a big fan of Sid and Geno, this book is a must have for any true Penguins fan.
Don't forget to check out Rick's first book, "Total Penguins," at TriumphBooks.com. A complete and comprehensive book on the team's rich and storied history, it's filled with season-by-season summaries, player profiles and stats, bios on coaches, general managers and owners, photos from the "Post-Gazette" archives, and much, much more.
*Be sure to check out Rick Buker's books,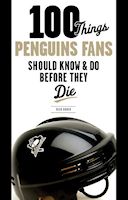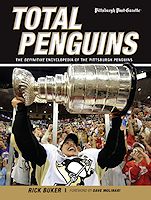 available at TriumphBooks.com, Amazon.com, and BarnesandNoble.com