This week's episode will feature a recap of Game 1 of the Penguins/Flyers playoff series as well as feature special guest, Travis Hughes, the managing editor of Broad Street Hockey.  One of the largest and most read Flyers blog sites. We'll be talking about Game 1 as well as hearing the Philly side of the Laviolette/Berube/Crosby kerfuffle from the end of the season.  There may also be a few other surprise guests in the mix also.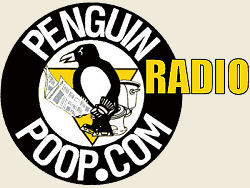 They'll also be taking your calls so join us Tonight, April 12th between 7 – 8 EDT.
or click on an episode below to listen.
For Ipod/Ipad users, you probably can't see the radio above. Good news though, all of our shows are available on iTunes for free. In iTunes go to Podcasts and search PenguinPoop. You can also subscribe to our show there.
Click Here: PenguinPoop on iTunes