Just when it seemed the high-flying Penguins might never lose, Toronto snapped the black-and-gold's eight-game winning streak Wednesday night in a taut defensive struggle at Air Canada Centre. Nemesis Clarke MacArthur (seven goals in 20 games versus the Pens) supplied the offense, while James Reimer (25 saves) outdueled Brent Johnson in a battle of seldom-used backups.
In stark contrast to Tuesday's wild-and-woolly goal-fest in Pittsburgh, the clubs engaged in a hard-fought, low-scoring affair.
"Just a tight-checking game," Pens defenseman Matt Niskanen said. "The good thing is that we were better defensively. That was our focus coming in."
With the last line change, Maple Leafs coach Ron Wilson blanketed the piping-hot Evgeni Malkin line with his top defensive tandem of All-Star Dion Phaneuf and rugged Luke Schenn. The move worked like a charm as "Geno" and company were held to a paltry eights shots on goal.
Following Kris Letang's crushing open-ice check on Mikhail Grabovski to cap a scoreless opening period the action heated up. The Pens appeared to draw first blood early in the second frame when Malkin stole the puck from Cody Franson deep in the Toronto zone. In one fluid motion, No. 71 spun off the boards and unleashed a low shot that deflected off Chris Kunitz' skate and past Reimer to the stick side. But replays clearly revealed that Kunitz had steered the puck in with a kicking motion.
The game settled into a knockdown, drag 'em out affair featuring plenty of puck battles and big-time saves. Seeing his first action since January 10, Johnson stopped the dangerous Grabovski from point-blank range and thwarted John-Michael Liles from the right-wing circle. At the other end of the ice Reimer denied Malkin on a partial breakaway and stoned Letang and Tyler Kennedy.
James Neal narrowly missed putting the Pens in front with six minutes to play when he blasted the puck off the crossbar. Nikolai Kulemin gathered in the loose disc and fed Grabovski, who passed to MacArthur. The Leafs' winger cut sharply around Johnson with a backhand to forehand move and snapped the puck home for the game-winner.
Despite the loss, the Pens remained upbeat. They were particularly pleased with the play of Johnson, a popular veteran who entered the game with an unsightly .876 save percentage.
"He played very, very well tonight," Niskanen said. "He was so sharp. It's a shame we didn't get a couple to go in."
Ice Chips
Johnson (23 saves) earned the No. 3 star … The Penguins outshot Toronto (25-24) … The Leafs dominated the faceoff circle (28-19) … Malkin was named the NHL's No. 2 Star for January … … Kunitz has had five goals waved off this season … Ben Lovejoy dressed in place of Deryk Engelland, who was injured in the third period of Tuesday night's game … The Pens claimed center Cal O'Reilly on waivers from Phoenix … Arron Asham, Sidney Crosby, Engelland, Simon Despres, O'Reilly, and Jordan Staal were scratches.
On Deck
The Penguins (29-18-4) continue their Northeast Division swing with a matinee game in Boston (33-14-2) on Saturday. The Bruins beat the Pens 3-1 on December 5.
*Be sure to check out Rick's new book, "100 Things Penguins Fans Should Know and Do Before They Die" at TriumphBooks.com. It features 296 pages of bios, stories, anecdotes and photos from the team's colorful past in a compelling, easy-to-read style. Whether you're a die-hard booster from the days of Jean Pronovost or a big fan of Sid and Geno, this book is a must have for any true Penguins fan.
Don't forget to check out Rick's first book, "Total Penguins," at TriumphBooks.com. A complete and comprehensive book on the team's rich and storied history, it's filled with season-by-season summaries, player profiles and stats, bios on coaches, general managers and owners, photos from the "Post-Gazette" archives, and much, much more.
*Be sure to check out Rick Buker's books,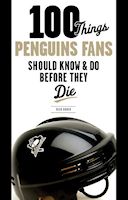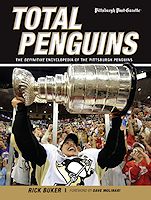 available at TriumphBooks.com, Amazon.com, and BarnesandNoble.com