The NHL is a game played by men.  To ensure this the NHL has a strict rule that a player be the age of 18 or more before September 16th of the year of Entry Draft eligibility.  For coaches and TV analysts the rules are a bit less strict.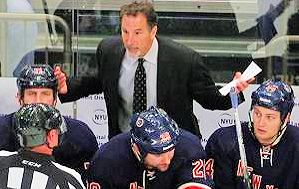 This week in Penguins history started with NBC analyst Mike Milbury saying this about Sidney Crosby on a Philadelphia radio show  "Crosby, sheesh, he writes the book on whining", "He's Gretzky like in his whining" while also saying "I thought Dan Bylsma should have taken off his skirt and gone over there" along with a bunch of other childish name calling all to the giggles of the Philly radio hosts.
Later in the week Philadelphia Flyers assistant coach Craig Berube let this little ditty fly "Crosby and Malkin are the two dirtiest players on their hockey team.", "They slash, they punch guys in the face, they do all these little things, I got no problem with what Schenn does, and if somebody runs him (Crosby) over, that's great, they should run him over" said Berube  "This guy gets away with too much in my opinion, whines to the refs all day and all night, it's a joke."
Culminating with NY Rangers Coach John Tortorella's name calling after last night's game.  "It's one of the most arrogant organizations in the league,"  "They whine about this stuff all the time, and look what happens. It's a cheap, dirty hit. I wonder what would happen if we did that to their two whining stars. But they'll whine about something else over there, won't they? Starting with their two (expletive) whining stars."
The week isn't over yet either.
Every Penguins fan wants the Penguins to come out guns a blazing but like always dignity prevails. I personally do not hold myself to the same high standards that the Pittsburgh Penguins organization does.  So if it is alright with the rest of you I'm going to go right ahead and say what the classy Pittsburgh Penguins organization won't.
First off, Mike Milbury at 59 years of age is one of the most boring analysts on NBC and is trying to make a name for himself because once he loses this job he has nothing.  He was born in Boston is still has a grudge against Penguins organization because back in the 1990's when he coached the Bruins the Pens eliminated him and four games and he was fired, I'm sorry not fired, he was moved to assistant General Manager position.
The beauty of not needing to concern yourself with Milbury's opinion about anything hockey lies in the fact that as Islanders GM in the 1990's he traded away a virtual All-Star team of players and draft picks.  Roberto Luongo, Zdeno Chara, Olli Jokinen, Jason Spezza, Todd Bertuzzi, Darius Kasparaitis, Raffi Torres & Tommy Salo to name a few.  Realizing Milbury is old and I should respect my elders, I will not mention him beating up a twelve year old last year.
I will say this.  Milbury you can take your fake apology and shove it up your arse.
Then there's Craig Berube, this guy has been hit in the head so many times, I'm surprised he can find the doorbell.  Seriously, he's a taco short of a combo platter, a peanut butter & jelly sandwich short of a picnic basket.  If Crosby & Malkin are the dirtiest players on the Penguins squad, they should award the Penguins team the Lady Byng Memorial Trophy.
I do have to hand it to Berube, he is very familiar with cheap play.  If you skip to the 50 second mark of the video below, you can watch him cross check Eric Lindros in the back of the head.
Last but not least, my favorite, John Tortorella. Now I've only been watching hockey since the 70's, and I can only assume that what I've read about the coaches and their dignity back in the earlier days of the NHL is true.  John Tortorella is the biggest cry baby coach in the history of the NHL.  His whiny tirades behind the bench and during post game interviews are legen (wait for it) dary.  I have huge breaking news for Tortorella just because you scream, swear and throw stuff doesn't mean your not whining.
I recommend to anyone of lower intelligence who believe the Milbury's, Berube's and Tortorella's of the world, to go watch a hockey game in person.  Watch the cheap shots that Crosby and Malkin endure in between plays, during play, and behind the play. It is non stop every game.  If you don't watch Crosby and Malkin, watch your teams star player and what he goes through.
Pittsburgh has the best two hockey players in the world.  It is understandable that teams like the Rangers and Flyers are acting like scared 10 year olds.  To be honest I was hoping someone would get them fired up for the playoffs.