For the past 11 days Dan Bylsma has patiently awaited the victory that would move him past Michel Therrien on the Penguins' all-time list for coaching wins. If the black-and-gold's recent results are any indication of what's in store, the affable skipper might have a long wait.
Continuing a dismal stretch that harkens back to the dark final days of Therrien's reign, the Pens surrendered another early lead and dropped a 3-1 decision to New Jersey at CONSOL Energy Center. The victory propelled the surging Devils past the land-locked Penguins and into third place in the Atlantic Division.
The contest was a virtual cookie-cutter replay of Friday night's loss to the Rangers. Determined to escape the doldrums, the Pens played another passionate first period. Evgeni Malkin snapped a prolonged dry spell against New Jersey (no points in his last six games against the red and black) when he laced a bullet past Martin Brodeur from the left point at 4:48.
Again, the Pens proceeded to dominate a foe over the opening 20 minutes, out-shooting the visitors by a whopping 12-3 margin. Once again, they failed to capitalize on their early momentum.
Peter DeBoer's crew began to turn the tide in the second period thanks to an aggressive forecheck. The Pens appeared to catch a break at the eight-minute mark when New Jersey enforcer Eric Boulton was given the gate for goaltender interference. However, it was the opportunistic Devils who cashed in. Rookie Adam Henrique stripped the puck from Pens point man Steve Sullivan and beat Marc-Andre Fleury on a shorthanded breakaway to knot the score at 1-1.
"Flower" quickly made amends, stoning the ever-dangerous Ilya Kovalchuk on a pair of rapid-fire shots from close range. However, the Russian sniper would not be denied. At 11:23 Kovalchuk gathered in a feed from Zach Parise and overpowered Fleury with an absolute bomb from center point.
Displaying plenty of fight, the Penguins pressed furiously for the tying goal. Brodeur responded with a huge left-pad save on Brooks Orpik and an equally impressive stop on Chris Kunitz at the buzzer.
Trailing 2-1 entering the final period, the Pens still had a fighting chance to earn a point or two. But Malkin was whistled for an ill-timed tripping minor in the opening minute to hand New Jersey a power play. Dainius Zubris promptly finished off a classic tic-tac-toe passing play to put the game out of reach.
"You've got to find a way to battle through it and as a team play well and get wins and get points," Fleury said afterward.
Ice Chips
Malkin was voted No. 3 star … Deryk Engelland had two hits and five shots … The Penguins out-shot the Devils 42-27 … The Pens are 5-6 against the Atlantic Division (1-6 versus the Flyers, Rangers, and Devils) … Jordan Staal sat out with a knee injury … Steve MacIntyre dressed in his place … The Pens have lost a league-high 210-man games due to injury … Robert Bortuzzo was returned to Wilkes-Barre … Arron Asham, Sidney Crosby, Dustin Jeffrey, Kris Letang, and Staal were scratches.
On Deck
The Penguins (21-15-4) play host to Ottawa (21-15-6) Tuesday night at CONSOL Energy Center. The Pens trail the Senators by two points in the Eastern Conference standings. The teams split their first two meetings of the season.
*Be sure to check out Rick's new book, "100 Things Penguins Fans Should Know and Do Before They Die" at TriumphBooks.com. It features 296 pages of bios, stories, anecdotes and photos from the team's colorful past in a compelling, easy-to-read style. Whether you're a die-hard booster from the days of Jean Pronovost or a big fan of Sid and Geno, this book is a must have for any true Penguins fan.
Don't forget to check out Rick's first book, "Total Penguins," at TriumphBooks.com. A complete and comprehensive book on the team's rich and storied history, it's filled with season-by-season summaries, player profiles and stats, bios on coaches, general managers and owners, photos from the "Post-Gazette" archives, and much, much more.
*Be sure to check out Rick Buker's books,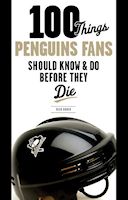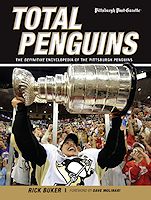 available at TriumphBooks.com, Amazon.com, and BarnesandNoble.com