Following a typically strong start to the 2011-12 campaign, the Penguins have stumbled along at an unsightly 13-13 clip since the end of October. As the season reaches the halfway mark, the Pens suddenly find themselves in a dogfight to stay in the hunt for a playoff spot.
So what's wrong? The most obvious answer to what's ailing the Pens is … well … ailments. The black and gold have been slammed by enough injuries over the first half of the season (210 man-games lost and counting) to keep a hospital staff fully employed. No team can absorb the prolonged absences of core players such as Sidney Crosby and Kris Letang (add top scorers James Neal and Jordan Staal to the list) and expect to stay on top.
Still, injuries don't tell the whole story. Here are five factors contributing to the Penguins' recent woes.
1. The M & M Boys
When general manager Ray Shero inked high-profile free agents Paul Martin and Zbynek Michalek to lucrative contracts in the summer of 2010 they were hailed as the Pens' next shutdown pairing. So far, neither has lived up to his advanced billing (a combined minus-16). While both appear to be rebounding from rough stretches, the Pens need more from them. A lot more.
2. Front Office Follies
During his first five years at the Penguins' helm, Shero earned a reputation as one of the finest GMs in hockey, and deservedly so. However, it's safe to say he didn't do his best work over the past summer. In a grievous error in judgment, he allowed character guys Mike Rupp and Max Talbot to walk, while plugging the gaps with Steve MacIntyre, Richard Park, Steve Sullivan, and Jason Williams. Among the newcomers, only the creative Sullivan has made an impact.
3. Missing in Action
The elbow Matt Cooke threw on Ryan McDonagh last spring did more than earn him a season-ending suspension. It cost the Pens the services of arguably their most aggressive and inspirational player. Effectively transformed from a lion into a lamb, Cooke's been virtually invisible this season.
4. Crash the Net
While Neal and Chris Kunitz have shown plenty of jam in the crease, the Pens need more net-front presence. As a whole, the team's forwards spend too much time cycling in the corners and behind the cage, while eschewing prime goal-scoring real estate in the slot.
"You can get 50 shots from the outside, and it doesn't matter," Pens defenseman Brooks Orpik noted.
5. Coach 'Em Up
Since he arrived on the scene in 2009, coach Dan Bylsma has preached a puck-possession game. And while his "scoot and shoot" style helped bring a Stanley Cup to the 'Burgh, it may be time to rethink his approach. The pinballing Pens have appeared terribly sloppy and disorganized at times, while struggling with their gap control and defensive-zone coverage.
*Be sure to check out Rick's new book, "100 Things Penguins Fans Should Know and Do Before They Die" at TriumphBooks.com. It features 296 pages of bios, stories, anecdotes and photos from the team's colorful past in a compelling, easy-to-read style. Whether you're a die-hard booster from the days of Jean Pronovost or a big fan of Sid and Geno, this book is a must have for any true Penguins fan.
Don't forget to check out Rick's first book, "Total Penguins," at TriumphBooks.com. A complete and comprehensive book on the team's rich and storied history, it's filled with season-by-season summaries, player profiles and stats, bios on coaches, general managers and owners, photos from the "Post-Gazette" archives, and much, much more.
*Be sure to check out Rick Buker's books,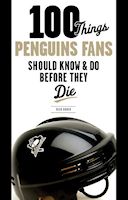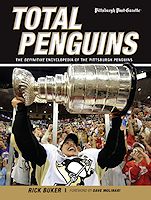 available at TriumphBooks.com, Amazon.com, and BarnesandNoble.com