I want to take a couple of minutes to step away from all of the playoff talk going on right now to talk about a way that our readership can help out a cause that is near and dear to my heart and benefit yourselves as well.  Many of you may not know it, but we have a wonderful little museum here in Pittsburgh called the Toonseum.  It is a museum dedicated to preserving comics and cartoon art in all shapes and sizes.  It is one of only two such museums in the entire country, and we are lucky enough to have it in our own city.  I've been involved with them since 2009 and am even on the board of directors right now because I really believe in what they are doing.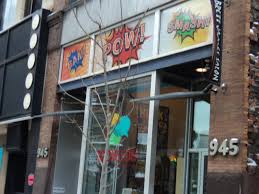 Last week, the museum was robbed.  No one was hurt or threatened and no artwork was stolen but the thieves did steal our director's laptop, the store's I-Pad and all of the cash from our register.  These guys will be eventually caught as we have descriptions of them and even have them on video trying to pawn the electronics and also from while trying to stash them in a locker at the Grey hound station.
Being that we are a museum that survives on donations and grants, it will take us a while to be able to purchase new electronics.  Here's where you guys come in.  Over the Winter, one of our exhibits was the animation art of Kensington Falls Animation.  They are the folks that have done the scoreboard animation art for both the Penguins and the Pirates for years.  The Toonseum created a limited edition print of one of their Penguin pieces featuring the old Muscular Penguin.  During the exhibit, the piece was being offered for $39.99, but right now, it is being sold for $19.99 right here on the museum's Etsy site.
http://www.etsy.com/listing/117463923/pittsburgh-scores-the-art-of-kensington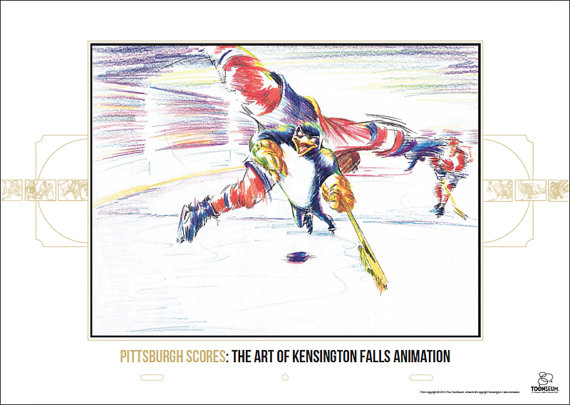 The piece is limited to run of 250, and at this price, I hope they will sell out fast.  I know there have to be a bunch of our wonderful followers who would love to have this piece hanging in their house or office, and you get to help out a good cause.