As the Penguins get set to face the Carolina Hurricanes tonight for the first time since the trade last Summer that sent Jordan Staal to Carolina and returned to the Penguins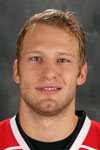 Brandon Sutter and Brian Dumoulin and the draft pick that allowed them to select Derek Pouliot.
Let's take a quick look at how both sides have fared in this trade so far:
Carolina has played 18 games, has 19 points and currently sits in first place of the Southeast Division.  In these 18 games, Jordan Staal has played primarily as the second line Center playing between Jussi Jokinen and Patrick Dwyer while seeing time on the team's second power play unit with Riley Nash and Jussi Jokinen, and occasionally, when the team goes with a four forward unit, with brother Eric,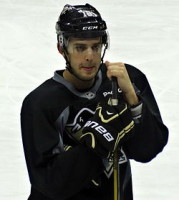 Alex Semin and Jiri Tlusty.  During these 18 games, Staal has so far put up 4/G  and 11/A.  He is currently a -3 and has accumulated 16 PIMs.  He has no Power Play goals and 3 Power Play assists.
Pittsburgh has played 20 games, has 26 points and currently sits first in the Atlantic Division.  In their 20 games, Brandon Sutter has played primarily as a third line Center although he has recently been upgraded to the second line with the injury to Evgeni Malkin.  His usual linemates had been Matt Cooke and Tyler Kennedy.  Sutter had seen very little time on the Power Play getting in with the little used team's second unit, but he is one of the team's top penalty killers.  His stats thus far are as follows: 4/G 4/A +6 4 PIMs.  He has 1 Power Play Goal a
nd 1 Power Play Assist in his limited time with the extra man.
To the naked eye, it appears that their stats are fairly similar except when you take into account that Jordan Staal sees about 5 more minutes of ice time per game than Sutter does including all important time on the Power Play.  You might think then the Penguins then have received a slight advantage to this trade so far.  That would be correct until you add in the fact that the Penguins also received Dumoulin and Pouliot.
Dumoulin is progressing nicely from the reports out of Wilkes-Barre.  He currently has 4/G  and 12/A as one of the top defensive pairings, and it wouldn't surprise me to see him in a Penguins uniform next year. Pouliot, on the other hand, is the gem of the trade.  He is only 19 and already 6'4″/200 pounds.  He is currently the top defenseman for the Portland Winterhawks of the WHL.  Assuming he doesn't make the Penguins team next year, which is doubtful, he will return to Portland for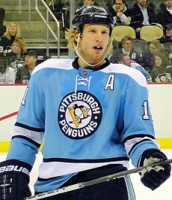 one last season.  He currently has 38 points in 39 games(Following up last year's 59 points in 72 games when his defense partner was soon to be Penguin Joe Morrow) and a whopping 54PIMs as he really likes to throw the body around.
I realize it is still early, and we're only looking at a very small sample size in terms of games played since the trade, but so far, it sure looks as though it is turning out to be a very good trade for Ray Shero and the Penguins.