During a recent interview with Craig Adams, Dave Molinari of the Pittsburgh Post-Gazette asked the Penguins forward if he thought history might play a part in the opening-round series between the Pens and Islanders.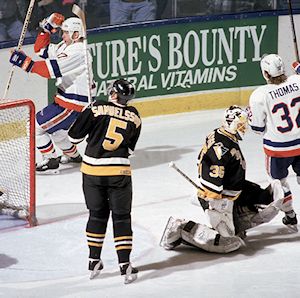 "I always laugh when I see historical statistics that don't really mean anything," Adams said.
However, as Winston Churchill once said, "Those who fail to learn from history are doomed to repeat it."
And so it was during the Penguins' shocking Game 2 loss to the Islanders Friday night. Following an all-too-familiar postseason script, the Pens came out smoking and snatched a 3-1 lead, forcing Islanders coach Jack Capuano to burn an early timeout. Like a Kentucky Derby thoroughbred that blew out of the starting gate too fast, the Pens faded and allowed the Isles to snatch victory from the jaws of defeat.
Echoing the disastrous first-round loss to the Flyers last spring, our boys spent too much time chasing. They chased the points while shorthanded, leading to glorious scoring chances by the Islanders down low.  They chased the speedy New Yorkers—and the puck—all over the ice, to little or no avail.
They may well have been chasing ghosts, too. The last time the two teams met in the playoffs in 1993, a hungry young Islanders team that bore more than a passing resemblance to the current crop upset Mario Lemieux and a star-studded Penguins team with a relentless, determined attack.
Fortunately, the Pens can right the ship by taking a page from history—recent history. After all, the black and gold rolled up a 15-game winning streak in March by embracing playoff-style hockey. They were smart and responsible with the puck, taking care of their defensive chores first and trusting that the goals would come.
The fact that the venue is shifting to Long Island may help. Playing on the road has a way of forcing a team to regain its focus and purpose, which the Pens clearly need to do. Even though they've sprouted a few warts, they're still an exceptionally talented bunch. If they tighten things up in Game 3, I'm confident the Pens can add a new chapter to their playoff history—one with a happier ending.
*Be sure to check out Rick Buker's books,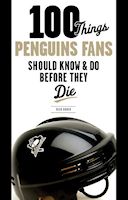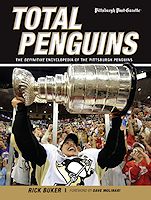 available at TriumphBooks.com, Amazon.com, and BarnesandNoble.com